Nowhere to hide: NSA, GCHQ wiretapped in-flight phone calls, Snowden leaks show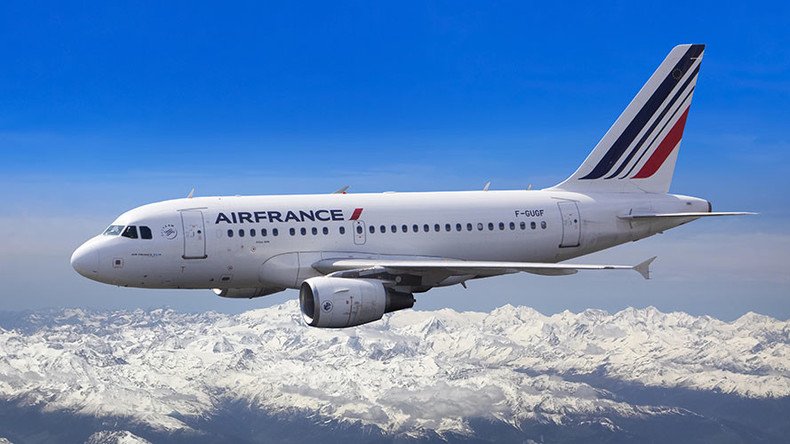 According to leaks from Edward Snowden, the NSA and GCHQ have been gathering voice communications and content from mobile phones used on commercial flights, with special emphasis on Air France, which was seen as a source of "terror threats" for the US.
In-flight mobile phone communications began to be targeted almost as soon as the airlines introduced the service earlier in the 2000s. According to Edward Snowden's leaks, which have been analyzed by the Intercept and the French daily Le Monde, the NSA and its British partner agency, Government Communications Headquarters (GCHQ), were prompt in exploiting the new feature for their surveillance programs.
A top secret NSA document dating back to 2009 noted that around 50,000 people had already used their mobile phones on board aircraft as of December of 2008, a figure that rose to 100,000 just three months later.
In commenting on the expanding in-flight mobile service, the NSA, which is the US' primary electronic intelligence agency, noted "more planes [are] equipped with in-flight GSM capability, less fear that a plane will crash due to making/receiving a call, not as expensive as people thought."
In a 2012 presentation, GCHQ outlined a program called 'Southwinds' capable of intercepting all cellular activity, including data, metadata, and the content of calls on board commercial aircraft, Le Monde said.
A document, designated "top secret strap," one of the highest British classification levels, revealed that the program allowed in-flight phone data to be collected "in near real time," while the aircraft could be "tracked" every two minutes, according to the presentation.
Once an aircraft reaches a cruising altitude of three kilometers (10,000 feet), a mobile phone can easily be wiretapped. Secret spy stations on the ground could intercept the signals as they transited through a satellite. The interception could then be checked against the list of known passengers on the flight, the flight number, and the airline code to determine the name of the phone user.
The 2012 GCHQ presentation said that 27 airlines already offered or were about to allow the use of mobile phones to their first and business class passengers – often high-profile people on long-haul flights. The list of airlines included British Airways, Hong Kong Airways, Aeroflot, Etihad, Emirates, Singapore Airways, Turkish Airlines, Cathay Pacific, and Lufthansa.
READ MORE: NSA surveillance blueprint: DEA tracked US phone calls years before 9/11
Air France, France's national flagship airline, drew particular attention from US and British intelligence agencies. As early as 2005, another classified NSA document stated that, based on a CIA report, some or all Air France flights had been "possible terrorist targets." Notably, the paper was circulated around 20 intelligence and military entities, including the CIA, Defense Intelligence Agency, NORAD and the US Air Force chief of staff.
In response to the article, Air France spokesperson told Le Monde: "We are visibly not the only ones to have been targeted and we know absolutely nothing about these practices," while stressing that the demand for on-board communications will only grow, as "customers now consider it normal, even necessary, to remain connected in flight."
According to the article, nearly 100 airlines offer the feature today. Aviation security authorities have approved the use of GSMs on board, and long-term installation of in-flight Wi-Fi is expected to come in 2017 or 2018.
The new technologies will not go unnoticed. In a 2010 internal newsletter, NSA analysts were already thinking further afield: "What's next, trains? We'll have to keep watching."
You can share this story on social media: