Big Bibi: Golden statue of PM Netanyahu mysteriously appears in Tel Aviv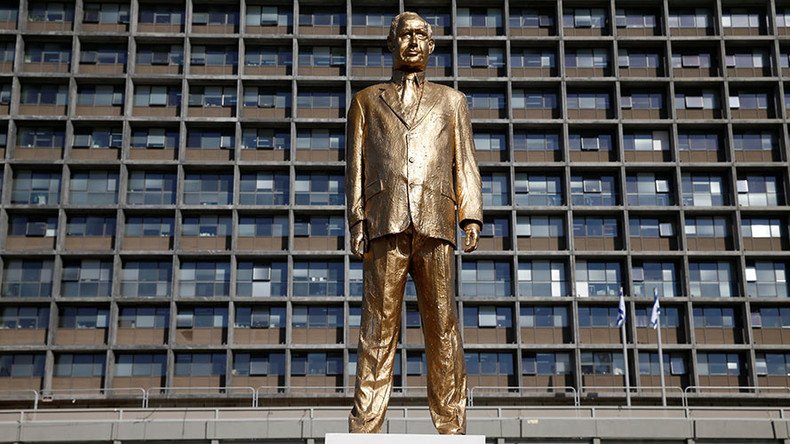 A life-size golden statue of Prime Minister Benjamin Netanyahu which mysteriously appeared in the center of Tel Aviv has captivated social media. Though dismantled several hours later, passersby managed to take some cool pictures with the 'Golden Bibi'.
The statue of Netanyahu was seen in Tel Aviv's Rabin Square on Tuesday morning, Israeli media said.
Haaretz reported that it was placed by Israeli artist Itay Zalait, who earlier claimed that he "will undertake a subversive artistic political act which will garner much media attention."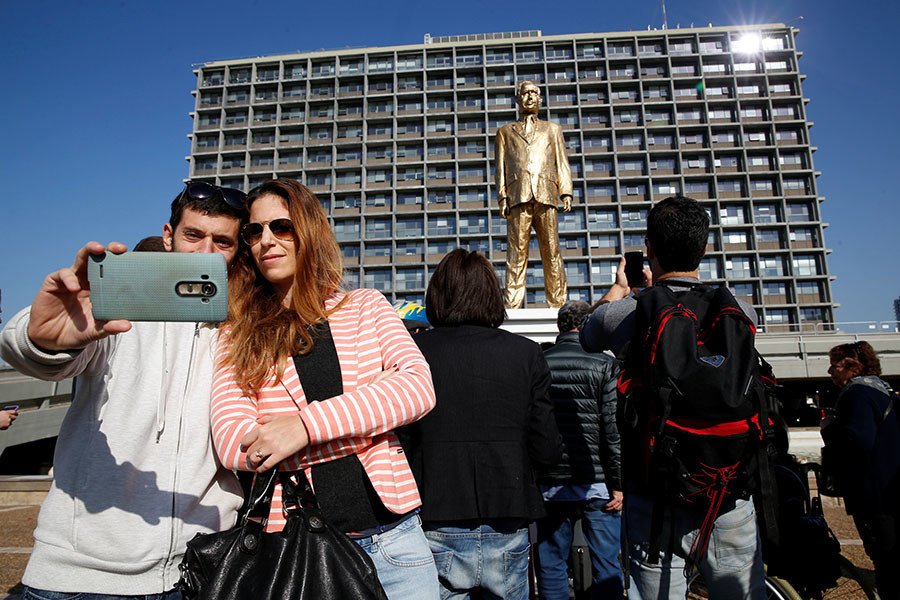 Cheering crowds immediately gathered in front of the Golden Bibi, taking selfies with the Israeli PM.
"I think it's funny, I like it. It's art and I like the idea," Reut, a passerby, told i24news. "I'm actually thinking about what other people think of it – whether people take it as sarcasm or whether they take it as something that we should do."
"It's cool," another passerby told Haaretz. "Netanyahu earned it. The people elect him again and again."
The city authorities were not amused by the artist's idea and ordered the statue's removal.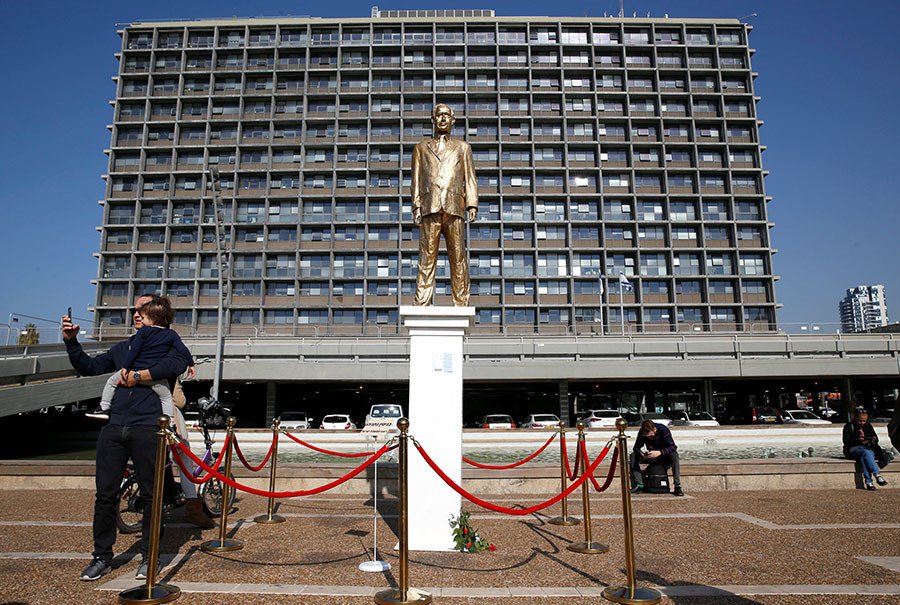 Former chairwoman of Tel Aviv City Council Yael Dayan condemned the move, saying it is merely "a provocation."
"The municipality is going to remove [the statue] and it's a pity that they didn't do it immediately," Dayan told i24news.
"The sick idea of putting a golden calf – a statue of Benjamin Netanyahu in Rabin Square, which is the square where Rabin was assassinated upon the incitement of Netanyahu – he is a winner, a golden calf of the bible and people are what, expected to respect it?"
The statue is "horrendous," one passerby, Nina Lobel, told Reuters, adding that the artist wanted "to show him [Netanyahu] as a dictator."
Israeli Culture Minister Miri Regev called it an "expression of hatred towards Netanyahu" on her Facebook page.
"On social media there have been tens of thousands of comments about 'King Bibi'," Zalait said later on Army Radio. "I simply made it a reality and put it in its deserved place, the Kings of Israel Square."
He was referring to the square's name before it was changed to Rabin Square in honor of Yitzhak Rabin, the Israeli PM who was assassinated there in 1995.
Facebook users even created a group calling on people to gather and dismantle the statue before the city authorities could do it.
"Shoot the [statue of] Bibi, before the city does it," wrote the group.
"There is no logical explanation for the unique phenomenon called Bibi in Israel. We must stop this obsessive ritual," one person wrote on Facebook.
The group released a video of the Golden Netanyahu being toppled, with many regretting that they were not present at the 'ceremony' to bring down the statue of the PM.
You can share this story on social media: