France investigating hazardous nuclear plant after Greenpeace call - report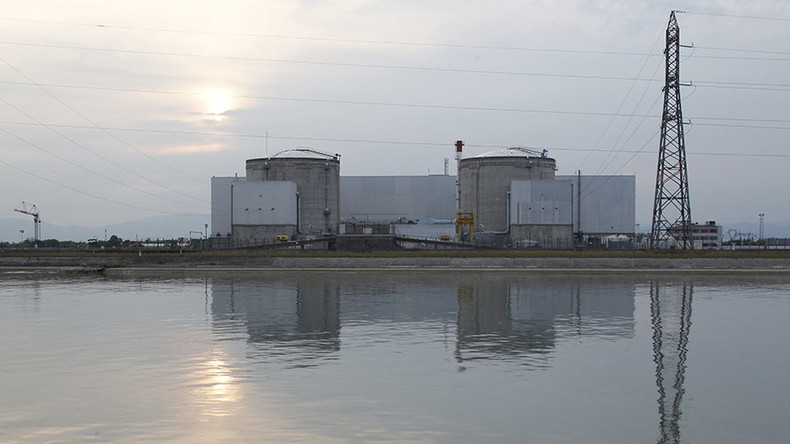 France has reportedly opened an investigation into an activity of its oldest power plant, Fessenheim, after Greenpeace reported that the reactor has numerous abnormalities and is endangering people's lives.
The investigation was launched by the Paris Prosecutor's office, AFP reported on Monday evening, citing judicial sources.
The Fessenheim power plant is in the Haut-Rhin department in Alsace, eastern France, near the German and Swiss borders.
The plant's activity is endangering the lives of people and it has equipment which doesn't fulfill the requirements of safety, according to the AFP report.
READ MORE: France's nuclear watchdog wants to shut down 5 reactors over failure risk
All these concerns were previously voiced by Greenpeace, which accused AREVA, a group specializing in nuclear power and renewable energy, and Électricité de France (EDF) of inaction.
In October this year, Greenpeace called upon the Paris prosecutor to investigate the abnormalities of both reactors of the plant.
"EDF and AREVA were aware of serious irregularities on Reactor 2 at Fessenheim," the statement said. "The defective part is a steam generator, an essential component of nuclear reactors."
The group also called for the immediate shutdown of Reactor 1 of the plant.
Greenpeace also accuses EDF and AREVA of falsifying safety certificates of the plant so that the authorities won't shut it down.
"EDF, as the operator, has in fact decided to give priority to economic interests instead of protecting people and the environment."
Fessenheim has recently been the topic of heated discussion, which even took place in the Elysee Palace. In April, President Francois Hollande promised to formally initiate the shutdown of France's oldest nuclear reactors on the grounds of environmental and safety concerns.
READ MORE: Hollande vows to shut down France's oldest nuclear power plant
Also in October, the Nuclear Safety Authority (ASN) asked EDF to shut down and inspect the plant.
Fessenheim houses two 920 megawatt reactors and has been running since 1978, making it France's oldest operating nuclear power plant. The German government and activists alike have long been calling for it to be permanently closed.
The plant is situated on a seismic fault line, making it vulnerable to earthquakes and flooding.
The German government has repeatedly called on France to terminate the Fessenheim plant as soon as possible, after an April 2014 accident when one of the reactors had to be shut down as water was found leaking from several places.
France has 58 nuclear reactors with a total capacity of 63.2 Gigawatts. The country gets two thirds of its electricity from nuclear energy.