Pentagon chief: Mosul victory 'certainly possible' before Trump takes office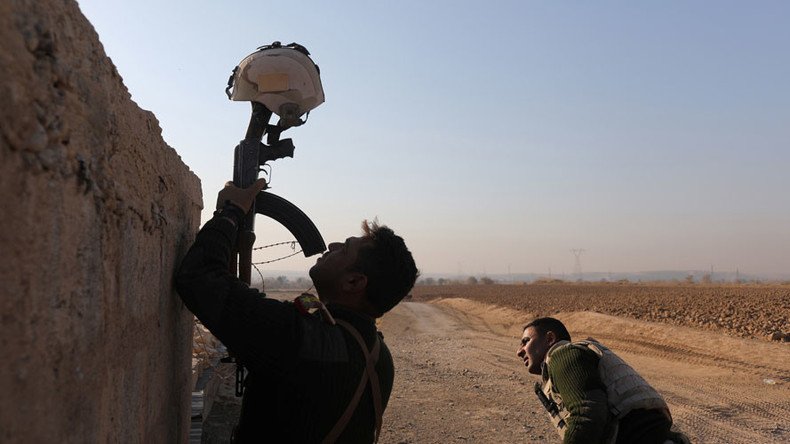 Retaking the Iraqi city of Mosul from Islamic State is "certainly possible" before President-elect Donald Trump takes office in January, US Defense Secretary Ash Carter said. Commanders in the field, however, say there is no deadline for seizing the city.
"[Retaking Mosul] is certainly possible and again it is going to be a tough fight," Carter told journalists on board a US military aircraft, when asked if the recapture would be completed by January 20 – the date Trump's presidency begins.
The comment came as Islamic State (IS, formerly ISIS/ISIL) militants repelled an offensive by elite Iraqi forces in eastern Mosul, in a series of powerful counter-attacks that also targeted government troops to the south and west of the city.
"Obviously there are always weather issues... the Iraqi security forces are prepared for any eventuality there," Carter said.
The Iraqi Army and security troops, backed by US-led coalition airpower, have been battling to retake the IS stronghold since mid-October. Some 9,000 Islamists are believed to be defending the city, while the attacking forces include up to 100,000 Iraqi Army soldiers, Kurdish Peshmerga fighters, as well as Iraqi-backed Shiite militias, Turkish expeditionary forces, and Western special forces operators.
Despite the coalition's overwhelming numerical and firepower superiority, recapturing Mosul has proved difficult. Islamic State militants have combined fierce resistance with devastating suicide attacks and the use of sophisticated anti-tank weapons systems against Iraqi armored units, according to various reports from the frontline.
The Mosul offensive was accompanied by conflicting statements from the US and its coalition partners. In late November, following a meeting with his French counterpart Jean-Yves Le Drian, Carter said the terrorist group finds itself under pressure "on all fronts," adding he is confident that "ISIL's days in Mosul are numbered."
However, Major General Rupert Jones, Britain's most senior commander in Iraq and deputy commander of the US-led coalition in the region, was less optimistic about the prospect of retaking Mosul. Speaking to reporters at the time of Carter's talks with Le Drian, he urged "patience" as Iraqi troops and coalition forces try to break IS defenses, saying the attacks are demonstrating "an extraordinary amount of progress."
Despite stressing that the Iraqis and coalition forces are "degrading that enemy day in, day out for months," Gen. Jones refused to outline a timetable for the fall of Mosul, instead claiming the assault was on schedule. He also said he expected all Iraqi towns and cities to be cleared of IS militants by the second half of 2017.
Top US-led coalition general says 'no timeline set for Mosul victory,' calls for patience

As an explanation for the slow advance into the city, top coalition commanders have cited the necessity to avoid 'collateral damage' and minimize civilian casualties. However, rights groups and humanitarian agencies warn that the civilian death toll is certain to rise, given the fighting is being carried out in densely-populated urban areas.
Other reports indicate that Iraqi forces may have tortured, executed or abused local residents accused of siding with Islamic State.
Speaking to RT, Peter Maurer, the head of the International Committee of the Red Cross (ICRC), said residents in large urban areas such as Mosul are increasingly vulnerable to the implications of fighting, adding that on the modern battlefield it is safer to be a soldier than a civilian.
Maria Zakharova, the Russian Foreign Ministry's spokeswoman, recently accused the coalition command of exposing innocent civilians to the dangers of modern warfare.
"The anti-terrorist operation carried out by the major powers of the 21st century has turned into a medieval slaughter, in which the civilian population is primarily affected," Zakharova wrote on her Facebook page in early November.
You can share this story on social media: