Russian bank chief causes Twitter frenzy after showing up to check service in 'disabled costume'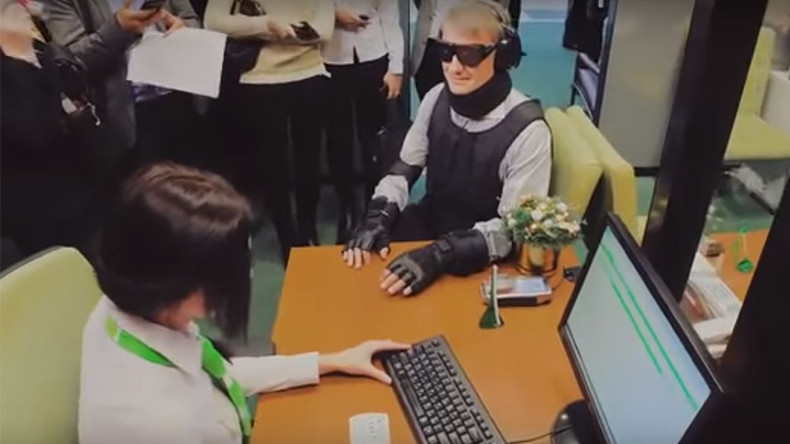 Russia social media was rife with mixed reactions and Robocop comparisons after German Gref, CEO of Russia's Sberbank, decided to test the availability of the bank's services to disabled customers by applying for a loan in a suit imitating various disabilities.
Gref was taking part in a trial of the GERT suit simulating visual, hearing and movement impairment. A batch of these suits was acquired by Sberbank to raise employees' awareness of customers with special needs and to check if bank branches were ready to welcome them.
The suit weighs about 20 kilograms (44 pounds) and consists of a vest, arm and knee bends, gloves and boots that significantly limit the range of motion. Special black glasses and headphones imitate the partial hearing and vision loss.
The CEO entered one of the bank's numerous offices posing as an actual disabled person with a 30,000 rubles ($470) monthly income, and applied for a loan to buy a wheelchair for 100,000 rubles ($1,560).
However, while the bank officer was still filling in a form, Gref took off the glasses and headphones as he could hardly hear anything the female employee was saying. He proceeded to ask the bank employee try the suit on herself to try and step into shoes of a person with eyesight and hearing loss.
After the abruptly concluded trial, Gref ordered staff to modify their service to better adapt it to the needs of the disabled.
"We have only recently introduced these suits. They will be used by our product designers and by those people who are working with disabled persons, so they will have an opportunity to feel for themselves what people with disabilities experience," Gref said, as cited by RIA Novosti.
Gref added that Sberbank will mull developing a special loan program for disabled people so they can buy necessary medical equipment such as wheelchairs.
The unusual trial was conducted ahead of the International Day of People with Disabilities, which is commemorated December 3.
While the idea behind the action was generally welcomed, the sight of Gref, who was looking more like a robot than an actual disabled person, triggered a Photoshop battle on Twitter with some accusing the Sberbank CEO of merely performing a PR stunt.
"Robocop-Russian version," the caption reads.
"German Gref trying to apply for a loan in Sberbank"
There were also those who gave credit to the idea, but blasted Sberbank for its seemingly poor execution.
"God, please, forgive his PR team," Russian journalist Ilian Merkouri wrote on Twitter. "Saying that the initiative to check the services for the disabled is a necessary thing indeed," he added.
However, some commentators seemed more than impressed with Gref's "performance" as a disabled person, predicting he would win an Oscar nomination.
Some resemblance to the Terminator also did not go unnoticed.
Similar trials are expected to be carried out in Sberbank's officers in other Russian cities in 2017.
The suit was originally designed by the German engineer Wolfgang Moll in 2009 to simulate age-related impairments and illnesses.
It was employed for gerontology research and in the training of medical professionals to increase their empathy to patients and improve diagnostics.