5-meter-high waves, whirlwind & fallen trees as huge storm sweeps Russia's Sochi (PHOTOS, VIDEOS)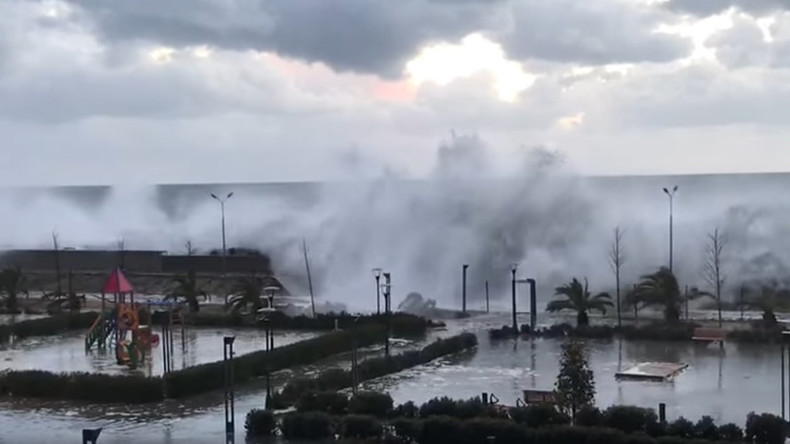 A massive storm has descended on the Russian resort city of Sochi on the Black Sea coast, bringing with it waves so high they've turned Sochi's Olympic village into a huge swimming pool.
Videos posted online showed the waves coming over the barriers on the embankment in Sochi's Olympic village on Saturday. The complex was built for the Winter Olympics, which the city hosted in 2014.
According to news reports, in some areas waves reached the height of up to 5 meters.
Concrete guardrails were reportedly partly broken.
Further from the coastline, it was strong wind that caused most trouble. More than 150 trees have been uprooted, with roads and a railroad having been blocked.
Flights at Sochi's airport have been suspended.
Dozens of cars have been damaged by the fallen trees. In one area, fallen trees damaged a gas pipe and a power line, leaving hundreds of people without gas or electricity. Emergency services are working in the city to deal with the situation.
The storm also created a whirlwind, which reportedly tore roofs off a number of houses.
Yet, some people braved the storm and rushed to the sea, not away from it. Despite emergency services' warnings, they were eager to capture the spectacular sight.
Luckily, there have been no reports of casualties.
With temperatures dropping, the water quickly froze, turning Sochi's beaches into what some locals called an "impressive foam party."