'I'm middle right, not far-right & I don't like extremes' – Austria's frontrunner Hofer to RT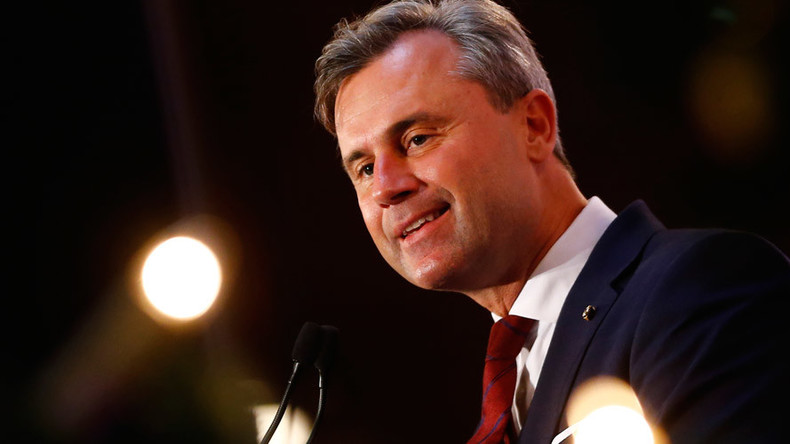 Norbert Hofer, the Austrian presidential candidate for the Freedom Party who is often described as "far-right" by opponents, has dismissed the idea in an interview with RT, saying that he is "a normal man, who does not like extremes."
"That's not true," Hofer told RT's Egor Piskunov when asked about opponents accusing him of spreading nationalist ideas.
"Yes, I'm right side, but I'm not far-right. I'm middle right and if you compare things members of the government say here in Austria and things I say, I'm not more right than the government," Hofer said.
"I'm a pretty normal man, a family man and I don't like extremes," he stressed.
Speaking of his plans in case he wins the election, Hofer noted that he would like Austria to cooperate with many countries, including Russia, as he makes a "strong economy" his number one priority.
In this regard, Hofer also touched upon the sanctions imposed against Russia amid the Ukrainian crisis and the situation after the Crimean referendum on joining Russia.
"I don't think sanctions are now useful for keeping peace," the presidential candidate said, adding that they don't solve problems and it's better to look for a diplomatic way out.
Hofer said he did not support Brexit, but now that the decision on it was taken, the European Union needs to adapt to the new reality.
Hofer, who previously spoke in favor of Austria, too, having a referendum on secession from the EU (Oexit), later walked away from the idea, and blasted his critics during the debates with his presidential race rival Alexander Van der Bellen on Thursday night.
"People who permanently talk about Oexit and accuse others of damaging the country with talk of Oexit should take a look at themselves and think about whether they are the ones damaging Austria the most," Hofer said.
In August, however, Hofer said he would call for Austria to leave the EU if Turkey joined the bloc. He also called for a ban on the naturalization of Turkish people in Austria if they didn't relinquish their first citizenship.
Hofer, who lost the disputed May 22 presidential elections to his opponent, a former leader of the Greens, Alexander Van der Bellen, still stands chances of becoming Austria's leader after Sunday's rerun vote.
Both candidates have been neck-and-neck in national polls almost all the way up to the election day.
The results of the initial elections in Austria were annulled in May after complaints of irregularities in postal votes for the Freedom Party. A rerun was then scheduled for October, 2, but was postponed after it turned out that some of the adhesive seals on postal votes came to voters unstuck.
The situation has caused political embarrassment in Austria, as the country has been officially without a president since July 8, when its previous leader, Heinz Fischer, stepped down.
You can share this story on social media: