Russian bomb disposal unit departs for Aleppo on de-mining mission – MoD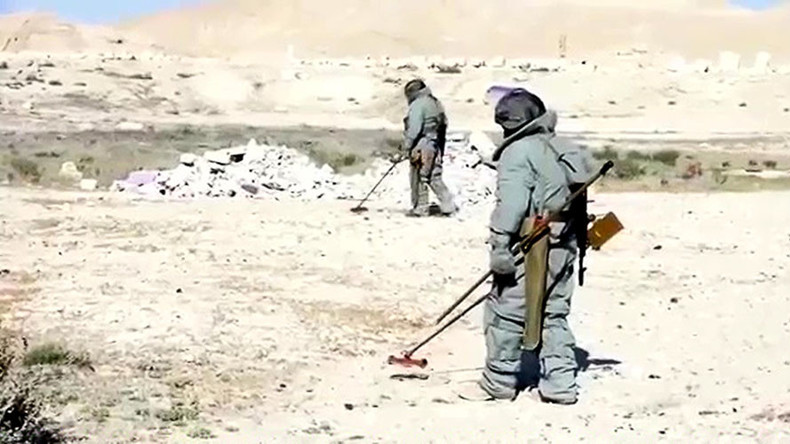 A Russian bomb disposal unit has departed for Syria to help clear the liberated eastern part of Aleppo from the mines left there by the militants, the Russian Defense Ministry has said in a statement.
"An advance unit of the international anti-mining center of the Russian Armed Forces has flown to Syria to participate in the humanitarian demining of districts in eastern Aleppo liberated from the militants," the statement said.
The servicemen from the task force initially underwent special training before being dispatched to the war-torn country and have now been sent to the Russian Khmeimim airbase in Syria.
The bomb disposal unit "is fully autonomous and is equipped with the most advanced demining tools and means of protection," the statement added.
The unit has also been joined by a squad of mine-detecting sniffer dogs. The Russian sappers have aided Syrian forces previously in demining the territories liberated from the militants.
Following the liberation of the historic town and UNESCO heritage site, Palmyra, in March, Russian bomb disposal units helped clear the territory of booby traps left by Islamic State jihadists.
"The Russian military defused almost 18,000 pieces of explosives and demined 825 hectares of that territory," the Defense Ministry announced Friday with regard to the Palmyra operation. In addition, some 8,500 houses were cleared of booby traps, Moscow said.
The Syrian army is currently engaged in a major operation to liberate eastern Aleppo from the militants and terrorists from Jabhat al-Nusra.
According to a recent statement by the spokesperson of the Russian Defense Ministry, Gen. Igor Konashenkov, the mission has already proven quite a success.
"The most important thing is that over 80,000 Syrians, including tens of thousands of children, have been freed," Konashenkov said on November 29.
According to the spokesman nearly half of the territories controlled by the militants are now in the hands of the government forces.