54 civilians 'inadvertently killed' in 7 US-led coalition strikes in Syria, Iraq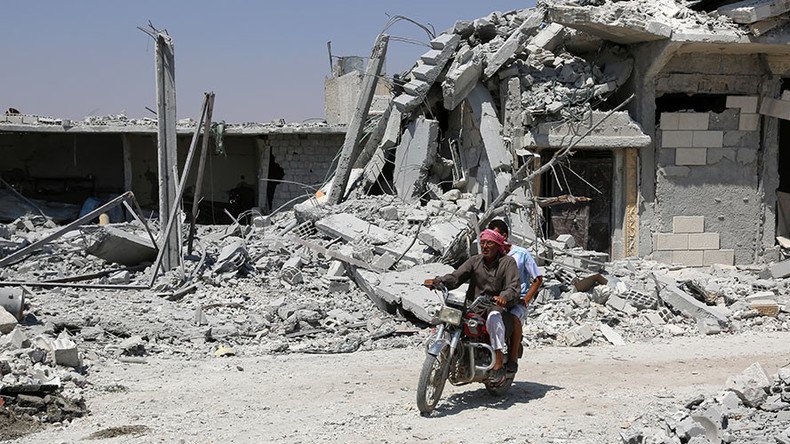 The US-led coalition airstrikes in Syria and Iraq have left 54 civilians "inadvertently killed" in seven strikes between March and October, according to the coalition's official statement.
"Although the coalition makes extraordinary efforts to strike military targets in a manner that minimizes the risk of civilian casualties, in some cases casualties are unavoidable," the coalition said in a statement.
The deadliest strike happened on July 18, when the coalition hit a group of Islamic State (IS, also known as ISIS/ISIL) fighters near Manbij in Syria. However, "up to 24 civilians who had been interspersed with combatants were inadvertently killed in a known [IS] staging area where no civilians had been seen in the 24 hours prior to the attack," the coalition statement said.
In a July 28 strike, also in Syria, 15 civilians died when a moving IS vehicle that had been aimed at slowed in a densely-populated area.
The latest figures bring the official coalition's civilians death toll to 173 since the start of the campaign two years ago.
Nevertheless, this figure is far from reality, as Airwars, a London-based group of activists, said to AFP: they estimate the number of likely civilian deaths from coalition strikes is minimum 1,915.
Following the release of the latest coalition statement, Pentagon spokesman, Navy Captain Jeff Davis said Thursday's announcement meant a "more regular process" of revealing the civilian death tally information.
However, it is not only the civilian casualties that are a cause for concern: on September 17, the US-led coalition targeted the Syrian army in Deir ez-Zor, killng 62 and injuring 100 soldiers.
The US Central Command called the attack an "unintentional, regrettable error."
Neil Sammonds, an Amnesty International researcher who focuses on Syria, told RT that the 119 deaths since 2014 acknowledged in a Pentagon report from November 9 make up only five to 10 percent of the actual number of civilians killed in US-led coalition airstrikes both in Syria and Iraq. Another Pentagon report stated that 64 civilians had been killed, and eight others injured in Syria between November 20, 2015 and September 10, 2016.
Washington's numbers contradict those released in October by Amnesty International, which says at least 300 civilians were killed in just 11 airstrikes conducted by the US-led coalition since September 23, 2014 in Syria alone.
"We fear the US-led coalition is significantly underestimating the harm caused to civilians in its operations in Syria," said Lynn Maalouf, Deputy Director for Research at Amnesty International's Beirut regional office.
You can share this story on social media: