Israeli warplanes launch 2 rockets across Syrian border that strike near Damascus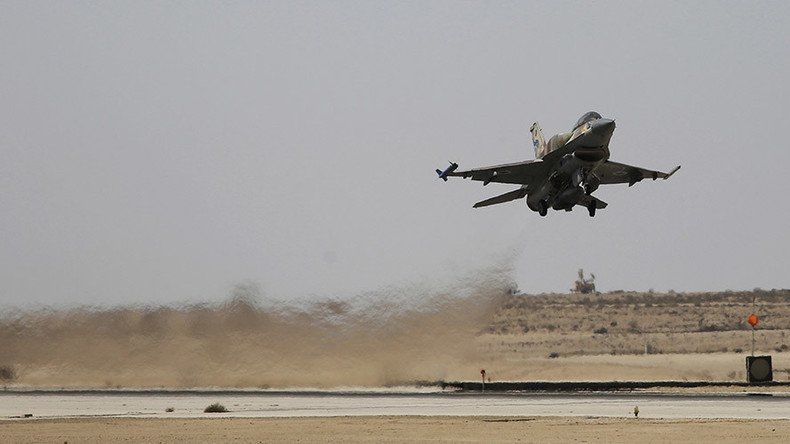 Syrian state media said Israeli fighter jets fired two missiles that hit west of Damascus, causing no casualties. Earlier reports indicated the missiles had hit Hezbollah militia targets near Al-Saboorah, a government-controlled suburb of Syria's capital.
Israeli planes launched the airstrike from Lebanese airspace at dawn to "divert attention away from the successes of the Syrian Arab Army," a Syrian military source said, according to SANA news agency.
Al-Masdar news agency reported earlier that the Israeli Air Force had launched four air-to-surface Popeye missiles targeting Hezbollah positions. The jets themselves are not believed to have entered Syrian airspace.
There have been conflicting reports over the initial target of the raid with speculations swirling over what targets were actually hit during the sorties.
Lebanomn's Mulhak News reported citing own sources that Syria's army ammunition depot was destroyed in one of the raids, while in the other a number of cars left near to the Damascus-Beirut Highway were damaged. The outlet stated that no senior security or political commanders have been killed in the attack.
Al-Masdar News also cited unconfirmed reports indicating that one of the missiles struck a car repair shop which was used by Hezbollah. No casualties have resulted from the sortie as mechanics were not at the workplace at night hours, it reported.
Other reports indicate that Israeli forces targeted a Hezbollah arms convoy near Damascus.
However, Damascus Now, a popular FB page dedicated to local Syrian news, said the strike targeted army positions.
"At approximately 1:20 a.m. four explosions were heard in the vicinity of Damascus, which sources said were the result of an [Israeli airstrike] against a Syrian army position near the Beirut highway," NOW's English news cited Damascus Now as saying on its FB page.
While the circumstances of the attack are still unclear, locals have reported hearing multiple loud explosions after midnight on Wednesday.
Based on the assumption that the targeted area lies close to the Damascus-Beirut Highway, the major road used by Hezbollah, Al-Masdar News suggested the ultimate purpose of the mission was to kill one of the Shiite militia senior officials.
READ MORE: IDF strikes ISIS compound in Syria after militants' 1st cross-border attack

This is the second cross-border attack by Israel into the Syrian territory in four days. On Sunday, it carried out an airstrike on "an abandoned military facility" in the south of the Syrian Golan Heights which served as a location for Islamic State militants, according to the IDF spokesman. The attack was carried out in retaliation after IDF patrol was shelled by small arms and mortar fire across the border on the Israeli part of the Golan Hights by an IS-linked Shuhada al-Yarmouk group, Israeli media reported.
You can share this story on social media: