Israeli PM Netanyahu thanks Palestinian Authority leader Abbas for helping out with fires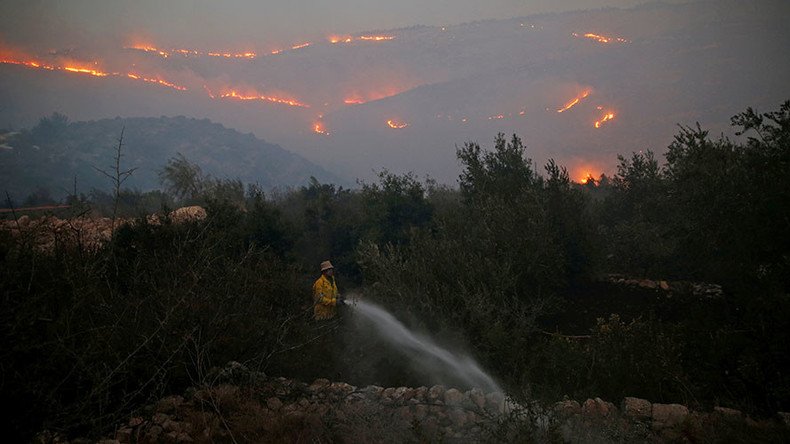 Israel's hardline Prime Minister Benjamin Netanyahu has called Palestinian Authority President Mahmoud Abbas to thank him for the help in dozing fires in Israel and sheltering people who had to flee the disaster.
In the Saturday evening call, Netanyahu expressed gratitude for the eight fire trucks and 40 firefighters the Palestinian Authority sent to fight the Israeli fires, the Times of Israel reported citing a statement released by the PM's office. He also said he appreciated the on-the-ground cooperation between Jews and Arabs, who opened their homes for those affected by the fires.
Wildfires in Israel forced tens of thousands of people to evacuate. The affected area included Israel's third-largest city, Haifa. Some Israeli politicians blamed arsonists for spreading the disaster, with the PM equating such acts to terrorism.
After the Palestinian Authority contributed to the multinational effort in battling the fires, public figures in Israel expressed their gratitude for the help. Opposition leader Isaac Herzog said it gave "a glimmer of hope that things can be different" and praised Palestinian firefighters, who "stood shoulder to shoulder with our firefighters, risking their lives to assist."
"They were highly praised for their actions, and we are grateful for their assistance, and that of all the firefighters and pilots form around the world who helped us," the head of the centrist-left Zionist Union said in a statement to the press.
PA crews joined the firefighting efforts on Thursday night, deploying against blazes near Haifa and at Sha'ar Hagai on the outskirts of Jerusalem. Additional firefighters from Ramallah arrived on Saturday morning to help with fires at the West Bank settlement of Halamish.
"It's our duty to help," Muhammad Amayra, one of the veteran firefighters on the PA firefighting team, told Israel Radio. "This is a humanitarian situation."
"The Israeli firefighters welcomed us very nicely," he added. "They helped us with everything, and always asked if we needed anything. Israeli firefighters are excellent firefighters. Maybe they lack big things like planes or supertankers, but they are excellent firefighters."
Foreign nations helping Israel deal with the nationwide disaster included its Arab neighbors Jordan and Egypt as well as Cyprus, Bulgaria, Croatia, Italy, Turkey, Azerbaijan, the United States and Russia.
You can share this story on social media: