Explosives, cache of weapons & ISIS flag found during anti-terrorist op in Russia (VIDEO)
Two special forces officers and two militants were killed in southern Russia during an anti-terrorist operation carried out by Russian security forces in the city of Nazran. The search for other terrorists possibly linked to the group is ongoing.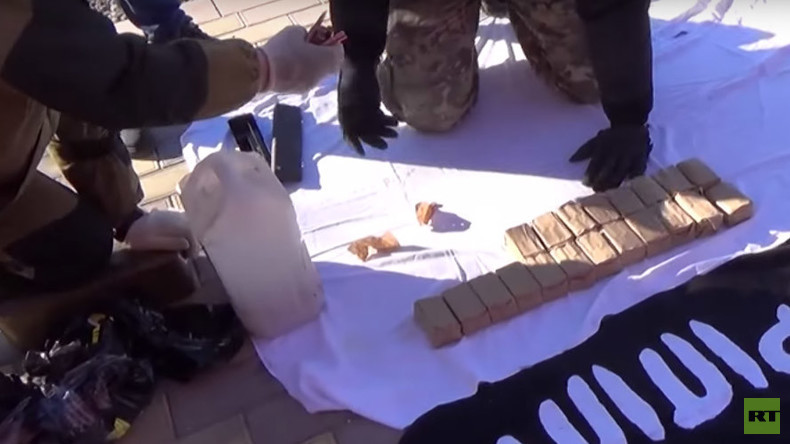 A counter-terrorist raid took place in a residential area of Nazran in Russia's Republic of Ingushetia, where special forces from the Federal Security Service (FSB) surrounded a residential building in which the suspected terrorists had a hide-out, Russia's National Anti-Terrorist Committee (NAC) reported on Thursday.
Civilians from nearby houses were evacuated and the militants were given the chance to surrender, but decided to open fire on the special forces instead. Two FSB officers were killed in the firefight.
Two militants, who were part of a larger group suspected of committing terrorism-related crimes in Russia's Northern Caucasus, were also killed in the operation, NAC said, adding that a search for others with possible links to the group is underway.
A stash of weapons and ammunition were found at the scene, as well as explosives and an Islamic State (IS, formerly ISIS/ISIL) flag.
"Two explosive devices equivalent to 20 kilograms of TNT, five TNT blocks, four Kalashnikov machine guns, more than 1,500 of various bullets, as well as a flag with IS terrorist group symbols were discovered," NAC told Interfax news agency.
Last week, the FSB reported that it had eliminated a terrorist group associated with Islamic State, which was believed to have been preparing to carry out terrorist attacks in Moscow and Ingushetia. The group was created by an IS emissary who was killed during a special operation in the republic in early October, the FSB said.
You can share this story on social media: