15 arrested after Kurds clash with pro-Erdogan demonstrators in Paris – media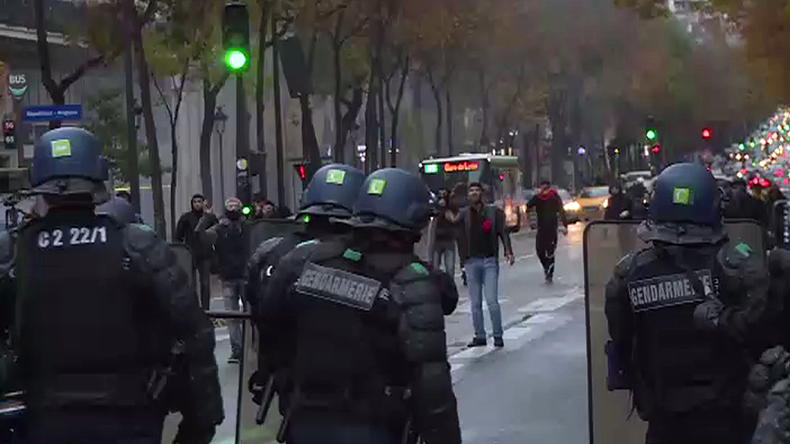 Fifteen people have been reportedly arrested after dozens of Kurdish protesters opposing the policy of Turkish President Recep Tayyip Erdogan clashed with police and pro-Erdogan demonstrators as a rally of hundreds in support of the Turkish president was held in Paris.
The incidents took place as about 700 Erdogan supporters rallied at Place de la Republique in central Paris.
Kurdish protesters equipped with truncheons and firecrackers took to the streets of the tenth district of Paris, not far from Place de la Republique, to show their discontent with the Turkish president's policies. The Erdogan supporters' rally was held under the slogans of the fight against terrorism at Place de la Republique, French LCI TV Channel reports.
The pro-Erdogan demonstrators were waving Turkish and French national flags, as well as flags with portraits of Erdogan. They were also holding banners depicting the Turkish president.
At least 50 Kurdish protesters managed to get to Place de la Republique and caused panic by letting off firecrackers, which were mistaken for gunshots by some eyewitnesses.
Kurds were shouting slogans denouncing Erdogan and his government and were pelting police with bottles and firecrackers. Several cars parked in the area were reportedly damaged during the clashes between Kurds and police.
The Kurdish protesters also set several rubbish bins on fire. Clashes between police and protesters also erupted near the Gare du Nord railway terminal.
There were brief fierce clashes between Kurds and Turks at Place de la Republique but police managed to curb them quickly through timely intervention, French media report. "They [Kurds] approached with a desire to start a fight," a police source told French BFM TV, adding that the scuffles lasted "about a minute before the intervention of the security forces."
According to police, all the clashes were "minor," although two police officers were injured in the incidents and about 15 protesters were detained. The pro-Erdogan rally then continued while police cordoned off the area. However, it is reported that some people suffered light injuries.
On November 5, over 2,000 Kurds marched in Paris carrying placards bearing such slogans as "Turkey bombs, Europe stays silent" as they protested against the new wave of Turkey's crackdown on journalists and opposition politicians, which the Turkish government suspect of having links to the July 15 failed coup plotters and outlawed Kurdish Workers' Party (PKK).
On November 4, Turkish authorities arrested the two leaders of the pro-Kurdish HDP party (Peoples' Democratic Party), Selahattin Demirtas and Figen Yuksekdag, as well as 13 other legislators from the party, as part of a terrorism investigation.
In late October, Turkey also arrested the editor-in-chief and several columnists of the independent Cumhuriyet newspaper, also raiding the homes of the paper's executives.
READ MORE: Clashes break out as thousands rally against Turkey's Erdogan in Cologne (VIDEO, PHOTOS)

The arrests provoked a series of massive protests both inside Turkey and in Europe. On November 5, hundreds of people took to the streets of several Turkish cities, including Ankara and Istanbul, to protest against the government's crackdown on dissent.
The Turkish rallies were followed by similar massive demonstrations in Europe the next day. In Cologne, Germany, up to 15,000 people rallied, according to the demonstration's organizers. Another massive rally organized by the Kurdish and Alawite communities was held in Cologne on November 12.