4 police killed after helicopter 'shot down' in Rio (VIDEO)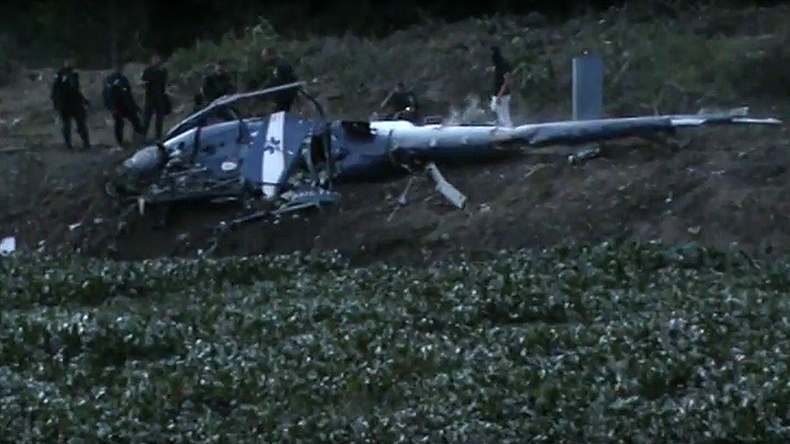 Four police officers have died as their helicopter was "downed" in Brazil's Rio de Janeiro amid an ongoing operation, local media report. Videos of the crashed aircraft emerged, with reports saying there was shooting in the area prior to the crash.
Police have confirmed the death of four policemen in the crash, Brazilian news portal G1 reported, citing Major Ivan Blaz, media coordinator of the Brazilian Military Police.
BandNews FM reported, an investigation into the causes of the crash will be carried by Aeronautical Accidents Investigation and Prevention Center, a unit of Brazilian Air Force, on Sunday.
Eyewitnesses on Twitter reported continuous shooting and a police presence in the Cidade de Deus (City of God) neighborhood in western Rio de Janeiro, which is a well-known Brazilian slum area often referred to as CDD.
The helicopter was supporting a police operation in the area when it was brought down. According to the Command of the Pacifying Police Unit (UPP), the altercation began after suspected criminals blocked Edgard Werneck Road, setting fire to tires and waste dumps, Diário de Goiás reported.
After a police vehicle, which was dispatched to the site to clear off the road, was fired at, members of Brazilian Special Operations Command were called to search for the suspects.
A seemingly falling helicopter was filmed from the area before the crash.
"Everything indicates that the helicopter made a forced landing," police spokesman Blaz said, without specifying the details of the incident.
Footage posted on Twitter showed smoke rising from the wreckage of the helicopter, surrounded by onlookers. A man behind the camera appears to be laughing.
Another video filmed later and posted to YouTube shows massive police presence at the site of the crash.
The names of the deceased officers have not been released.
Rio's so-called favelas, or suburban slums, some of which saw people resettled from the city's central districts, have been a challenge for the Brazilian government, with crime gangs and drug traffickers operating in the areas. State statistics cited by Reuters show that street crimes and murder rate across Rio have recently soared.
Brazilian police helicopters have been shot in Rio before, with drug traffickers downing an aircraft and killing two crew in 2009 amid security operations linked to the 2014 World Cup and the 2016 Olympics.
READ MORE: Rio police gun down drug baron from helicopter, probe launched (VIDEO)
You can share this story on social media: