Moscow demands explanation for Russian media plane being shadowed by Swiss fighter jets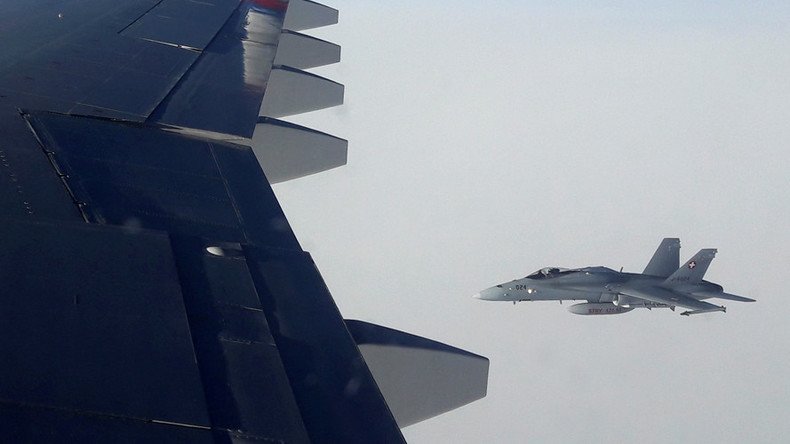 Moscow has asked the Swiss government for an explanation for the deployment of fighter jets to meet a civilian Russian plane carrying journalists to a summit in Peru, saying it is particularly concerned by how perilously close the warplanes shadowed it.
"We have sent a note asking for clarifications and expressing our puzzlement over the incident. We asked that such incidents be prevented in the future," the Russian embassy in Bern said on its Twitter page.
Russian Foreign Ministry spokesperson Maria Zakharova said Russia was concerned about how close Switzerland's military aircraft had come to Russia's civilian plane.
"We expect those explanations and will react accordingly when we get them," she told Rossiya-24 news channel.

Switzerland said later on Saturday that close encounter had been just a "routine check." The Swiss Defense Ministry confirmed that the Swiss jets flew alongside the Russian plane for seven minutes, adding that it was one of the checks that are usually conducted around 400 times a year to double-check the identity of planes belonging to foreign governments, as reported by Reuters.
"It's like police patrols in the street checking a car to make sure it wasn't stolen," a Swiss Defense Ministry spokesman told Reuters.
Earlier on Friday, Swiss fighter jets shadowed a Russian plane for several minutes, according to some of the journalists who were on board the aircraft. The reports included footage of the Swiss jets.
Выразили недоумение и попросили разъяснений у швейц. стороны в связи с инцидентом с росс. правительственным бортом в небе над Конфедерацией pic.twitter.com/FffgbqfPYd

— Посольство России (@RusEmbSwiss) November 19, 2016
READ MORE: Plane with Russian journalists on way to Peru tracked by Swiss fighter jets (VIDEO, PHOTOS)
The plane, which belongs to the Russian government's special fleet, was taking journalists to cover an international summit in Lima, the capital of Peru. Some officials from the Russian delegation to the event were also on board.
You can share this story on social media: