Palestinian shot dead by IDF amid clashes at Israeli-Gaza border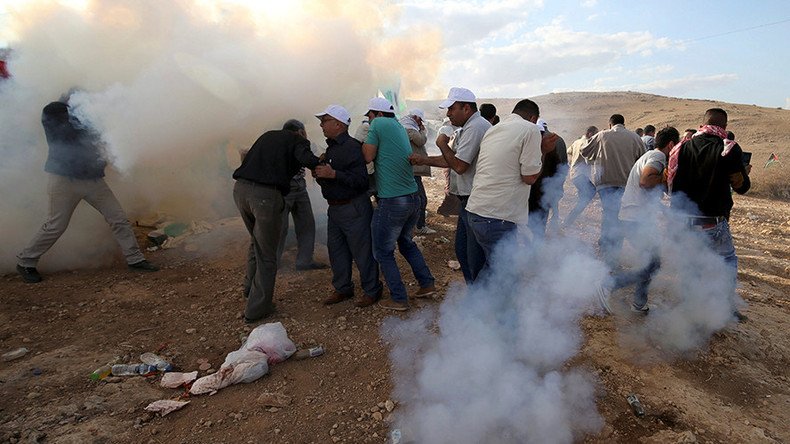 A 26-year-old Palestinian was killed and another two injured as Israeli troops fired shots at protesters gathered near the Israeli-Gaza border, Palestinian health authorities said. The IDF says it was retaliating after Palestinians violently stormed a fence.
Ashraf al-Qidra, a Palestinian Health Ministry spokesman, said in a statement that Mohammad Abu Seada, a Palestinian protester, died "after being shot in the chest by Israeli soldiers in clashes east of the Al-Bureij camp," i24news reported.
The Israel Defense Forces (IDF) justified the shooting by saying that Israeli soldiers opened fire at demonstrators "during a violent riot" after they stormed into a buffer zone separating Gaza from Israel, damaged the security fence at the border in an attempt to "infiltrate" the Jewish state.
The demonstration had been originally called in protest of the new Israeli bill, which, if approved by the Parliament, would impose ban on loudspeakers at mosques, which transmit the call for Muslim prayer, supposed to be performed by every Muslim five times a day.
The bill, initially proposed by Moti Yogev, MP from The Jewish Home, a religious Zionist party known for strong Orthodox beliefs, has sparked an outrage among ordinary Palestinians, who took to the streets to protest the bill on Friday.
A large demonstration was held in the southern Israeli city of Rahat with mostly-Bedouin population. Another rally was organized in the Israeli Arab town of Jisr az-Zarqa. Speaking at the rally, Ahmed Tibi, MP from the Joint List, an alliance of Arab parties in Knesset, chastised the controversial bill, which had already gone through first hearing on Sunday, as "provocation" and "act of coercion."
Palestinian Minister of Religious Affairs Sheikh Yousef Ides has criticized the bill, warning it could descend "the entire region into religious war," as cited by the Palestinian broadcaster Wafa.
READ MORE: Israeli ministers okay draft bill to legalize Jewish settlements on private Palestinian land

Yogev, however, rejected the criticism of his proposal, saying on Twitter that his party harbors "no intention to harm freedom of religion but rather to prevent the harming of people's sleep," according to the Times of Israel.
Although the legislation supported by Israeli Prime Minister Benjamin Netanyahu will concern not only mosques but all religious institutions, it is perceived by the Palestinian community as an encroachment on their rights.
At least 227 Palestinians have been killed in the West Bank and Gaza Strip since October 2015, Reuters report. Israeli authorities claim 199 of them were perpetrators, while the others were killed in clashes and protests turned violent. Palestinians have killed 33 Israelis and two visiting Americans.
You can share this story on social media: