Peruvians protest TPP & Obama visit, clash with police ahead of APEC summit (PHOTOS, VIDEO)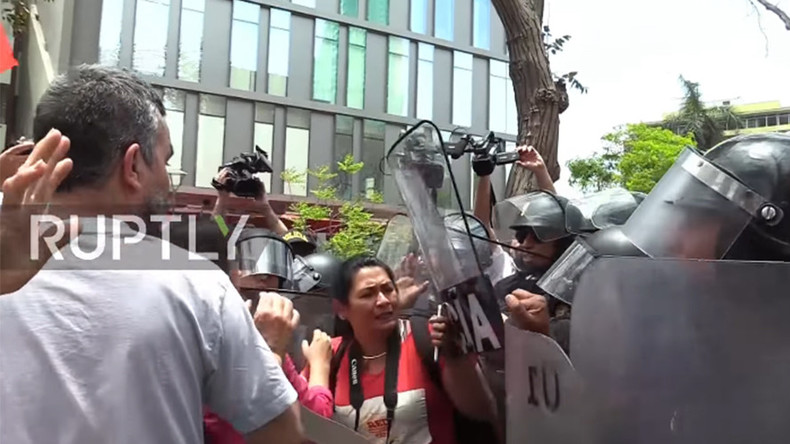 Police surrounded and scuffled with over 100 activists who gathered in Lima's financial quarter to denounce the Trans-Pacific Partnership (TPP) deal and visiting US President Barack Obama, who is there to attend the Asia-Pacific Economic Forum (APEC).
The demonstrators were holding signs with the letters TPP crossed over, slogans reading "TPP kills" and other banners as they sought to march towards the Lima Convention Center, the official site of the 24th APEC summit, which kicks off on Saturday, but were blocked by riot police.
They also chanted slogans against the visit of US President Barack Obama, who is to take part in the summit.
About 200 officers and a helicopter were mobilized to ensure the protestors did not break through several rows of police cordons.
The rally has been staged by the members of Broad Left Front, an umbrella coalition of left-wing parties and movements, as well as representatives of Student Integration Movement among other groups.
Martin Guerra, leader of the Socialist Left alliance, explained his opposition to the deal by saying that it "destroys the country's economy, diminishes labor rights, privatize territories and hinders access to basic medical care," while speaking to journalists at the rally, as cited by Terra.
He also decried US military involvement in conflicts in the Middle East and what he described as Washington's attempt to "demonize the Venezuelan people," arguing that Obama has continued a political course followed the George Bush Jr. administration, calling the outgoing US president even "more imperialist" than his predecessor.
Among the participants of the rally were also farmers, who protested handling of Las Bambas mine in Apurímac owned by Chinese-controlled MMG-led consortium, which, they say, causes significant damage to farming lands. Last month, a farmer was shot dead as the clashes erupted between police and peasants, who had blocked the road used by the mine operators.
Despite that tensions were running high at the protest, it was largely peaceful and concluded with no major incidents or arrests reported.
In February, after the controversial deal on a proposed multinational free trade zone was signed by 12 countries of the Trans-Pacific region, including Peru, violence erupted at large-scale anti-TPP protests in Lima as protestors clashed with police. Dozens of arrests were made.
The deal, which aims to scrap tariff and non-tariff trade barriers thus boosting countries' economies, has US, Japan, Australia, Brunei, Canada, Chile, Malaysia, Mexico, New Zealand, Peru, Singapore and Vietnam among its signatories, notably excluding China.
The agreement, which was propelled by President Obama as a counterweight to Chinese economic expansion in the region, was repeatedly slammed by US President-elect Donald Trump, who called the agreement a "disaster," raising concerns about its future, with some experts predicting its demise after Trump assumes office.
READ MORE: Japan's parliament approves TPP deal, labeled 'disaster' by Trump

To come into force, the deal has to be ratified by all of its parties.
You can share this story on social media: