Pakistan claims it stopped intrusion by 'nefarious' Indian sub, 'Blatant lies!' cries New Delhi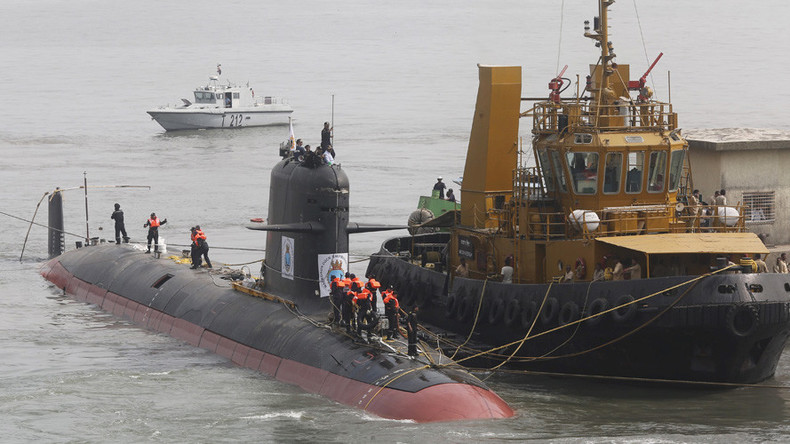 Relations between two nuclear neighbors have dipped to a new low after Pakistan alleged that an Indian submarine tried to enter its territorial waters. Islamabad is also accusing New Delhi of fomenting a rebellion on its territory, while Kashmir remains on high alert.
"The Indian Navy, in order to fulfil its nefarious designs, was deploying submarines. The Pakistan Navy, alert and using its extreme skill, prevented Indian submarines from entering Pakistani waters," said a statement from the Pakistan Navy, which said only that incident had happened "south" of its coast.
Pakistan said that it "tracked" the vessel "mimicking" its behavior, before "pushing" it back out of its waters. It also published a brief video of what appears to be a submarine mast coming to the surface.
"The Pakistan Navy is fully prepared to defend its borders and capable of responding to any aggression befittingly," said Islamabad.
India said the story was a fabrication.
"Pakistan navy's statement is a blatant lie. None of our boats are in that area," said Indian Navy spokesperson Captain D K Sharma.
"Why would an Indian submarine surface or come to snorkeling depth near Pakistani waters? Submarines are meant to be stealthy, and do not give away their presence away so easily whether they are on intelligence-gathering missions or in actual combat," one Indian navy source told the Times of India.
"At any given time, there are over 150 ships of different nationalities in northern Arabian Sea and the Persian Gulf. Even the Chinese have been deploying submarines in the region. Either the Pakistan Navy mistook some other nation's submarine as an Indian one or is just doing propaganda warfare," claimed another senior officer in an anonymous interview with the newspaper.
This is the second story that follows the same template this week. Pakistan's army commander said that 11 Indian soldiers were killed in cross-border skirmishes on Kashmir's Line of Control on Monday. New Delhi has dismissed these claims as entirely untrue, saying instead that it is Pakistan that has lost troops in the area in recent weeks.
Hostilities between the two countries spiraled after Pakistani militants killed 19 soldiers inside an Indian army base in Kashmir in September. New Delhi said that attackers had been harbored and financed by the Pakistani government and executed "surgical strikes" on "terrorist launch pads" across the border in the weeks that followed.
The two countries have gone to war over the region three times since becoming independent states, and mortar and gunfire exchanges have prompted both to evacuate villagers from the border region of the province.
India and Pakistan have also expelled each other's diplomats for alleged espionage, while the latest spike has come after Islamabad accused its southern neighbors of arming separatist rebels in its restive Balochistan region. India has voiced support for the local ethnic nationalist movement, but has rejected accusations of meddling.