Refugees set Greek migrant camp on fire, loot nearby stores (VIDEO)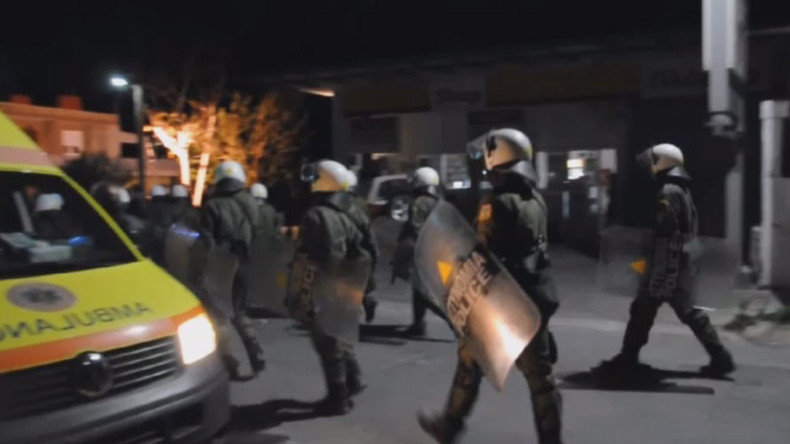 Refugees set a Greek migrant camp on fire, looted and set off stolen fireworks in a violent protest, according to local media. At least four people were hospitalized and around 50 arrested after riot police descended on the camp.
The protest at Souda refugee camp, located on Greece's Chios Island, began on Wednesday night and continued into the early hours of Thursday, Nea-Online reported.
In addition to destroying a significant part of the camp by setting it on fire, refugees also smashed a fireworks store and began aiming the explosives at local residents and into houses.
They also reportedly threw stones and looted nearby vehicles and shops.
Footage posted by Ruptly showed riot police arriving at the scene, where 50 people – including two camp volunteers were reportedly arrested. At least four people were hospitalized.
Ruptly and reports on social media said the violence apparently took place during a face-off with supporters from the far-right Golden Dawn party.
Greek anti-riot police not restraining the fascists, but rather beating refugees & arresting international volunteers. #Chios#Shame

— Huwaida Arraf (@huwaidaarraf) November 17, 2016
Greece, which is home to around 62,000 refugees, has been faced with numerous incidents involving asylum-seekers who are frustrated at being prevented from reaching Western Europe, with many aiming to ultimately reach Germany. The situation is part of Europe's wider migrant crisis – the biggest since World War II – which saw more than 1 million asylum seekers reach the continent in 2015.