'Dangerous': Don't rely on Facebook as your sole source of news, says Edward Snowden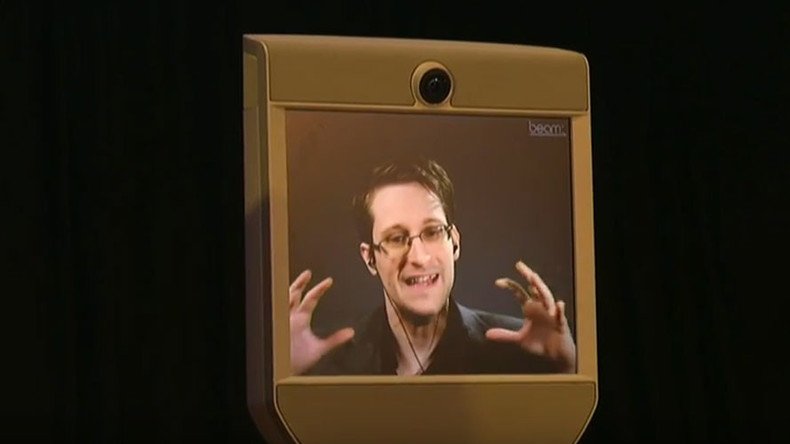 Ex-CIA employee turned whistleblower Edward Snowden explained why he thinks it's very dangerous to rely on Facebook as your only source of news and information while speaking via BeamBot at Fusion's Real Future Fair conference in Oakland, California.
"There is a big controversy happening right now, about this election particularly, regarding Facebook. There is this claim – which hasn't really been proved, substantiated, but it's getting pretty popular – that Facebook rigged the election because they showed fake news," Snowden said.
"If that was true, if that was possible, and Facebook just put on fake news, and we were persuaded [by it], I think that's actually very sad indictment of our democracy that our voters could be so easily misled," he added.
However, fake news isn't the biggest problem on the table, Snowden thinks: if it's true, then "this gets into a bigger challenge, which is the lack of competition."
Indeed, come to think of it, can we imagine a Facebook replacement?
"There seems to be no alternative to the larger services. Because of this network effect, because the first mover advantage. When you get a Google or a Facebook or Twitter in place, they never seem to leave," Snowden said.
"The Silicon Valley desire for massive, world-eating services, the scale that takes over not only our country but all others, it's asking us to accept a status quo where we set aside that competition in favor of scale. We should be particularly cautious about embracing this and taking this to be the case."
And big services entail big issues, if they mess something up, too – because they are giants that impact our views and opinions.
"When one service provider makes a bad decision we all suffer for it," Snowden said.
"To have one company that has enough power to reshape the way we think, I don't think I need to describe how dangerous that is," he said.
When asked if support for third party candidates had led to Trump's win, Snowden said, "People are wondering: 'Was that a wrong thing?' Should they have voted for Hillary Clinton, even though they didn't believe in her, because it could have changed the election?"
In short, his answer was no, though he also pointed to an alarming trend in world politics.
"First of all, there are a lot of studies that say third parties would not [change] the election [results]. But even if they have, I think it would be inappropriate to say that people should vote for someone they do not believe in, for someone who doesn't represent their interests, because we are now getting into a politics that is against choice, belief, progression. You must always choose between two bad options."
Snowden's talk comes as Facebook – and CEO Mark Zuckerberg in particular – are under fire for allegedly spreading fake news in the run-up to the US presidential election.
Zuckerberg first brushed off the accusations, saying at a news conference last week that it was "a pretty crazy idea" that Facebook could impact the result.
He followed up with a post on Saturday, claiming, "on Facebook, more than 99 percent of what people see is authentic" and that it was "extremely unlikely hoaxes changed the outcome of this election."
However, the company's employees have reportedly formed "an unofficial task force to question the role their company played in promoting fake news in the lead-up to Donald Trump's victory," according to Buzzfeed.
A few days later, Facebook and Google said they said they were changing their advertising policies to target fake news sites.
You can share this story on social media: