Syrian army makes gains in Aleppo offensive – Russian MoD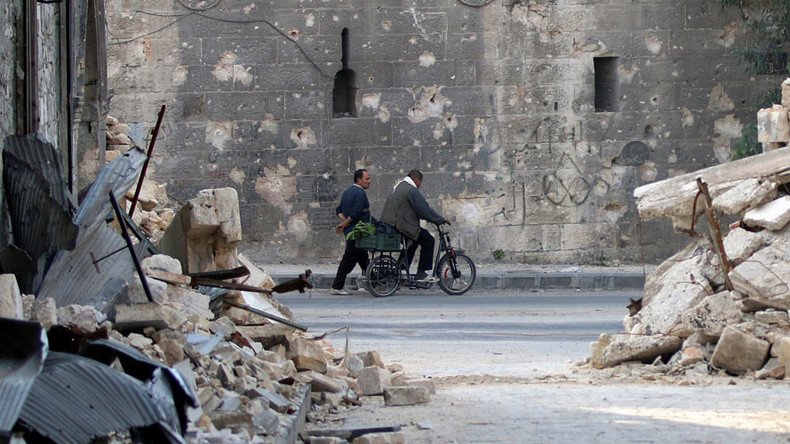 The Syrian military has pushed forward with its offensive in Aleppo and liberated several neighborhoods from the militants over the last few days, Russia's Defense Ministry reported.
"The militants now ultimately have no chance to break into Aleppo from the southwestern direction," Russian Defense Ministry spokesman Major General Igor Konashenkov announced on Wednesday.
Several neighborhoods in the southwestern part of the city, including the Benyamin district, that had been occupied by the militants are now under the Syrian government control, the official said. The army has also made gains in the northern part of the city.
Resistance against the terrorists and rebels controlling eastern Aleppo has been growing amongst the civilian population still trapped there, Konashenkov said in a statement, adding that 11 protests have flared up in militant controlled areas since the beginning of the week.
Just over the past 24 hours, some 1,500 civilians in four Aleppo districts have spontaneously stood up against the militants, but their demonstrations were violently suppressed by the jihadists.
There has been an attempt by desperate civilians to seize a food storage depot used by the militants, the Defense Ministry reported, adding that many are eager to flee their homes for safer areas in Syria. However, any attempts to leave eastern Aleppo are extremely dangerous, as terrorists have mined the streets leading to humanitarian corridors.
Punitive actions are staged on a daily basis, the ministry said, citing civilian reports. Both civilians and militants who decided to give up resistance are being killed. On Tuesday, 27 people died and hundreds were injured as terrorists opened fire at people protesting the occupation.
The Russian Air Force has not launched any airstrikes on or near Aleppo for 29 days, the military official said, adding that humanitarian efforts continue in the area, with nine neighborhoods having received some 17 tons of aid during the week.
You can share this story on social media: