Israel planned to supply West Bank Palestinians with 40% less water than settlers – report
Published time: 14 Nov, 2016 18:28
Edited time: 15 Nov, 2016 12:59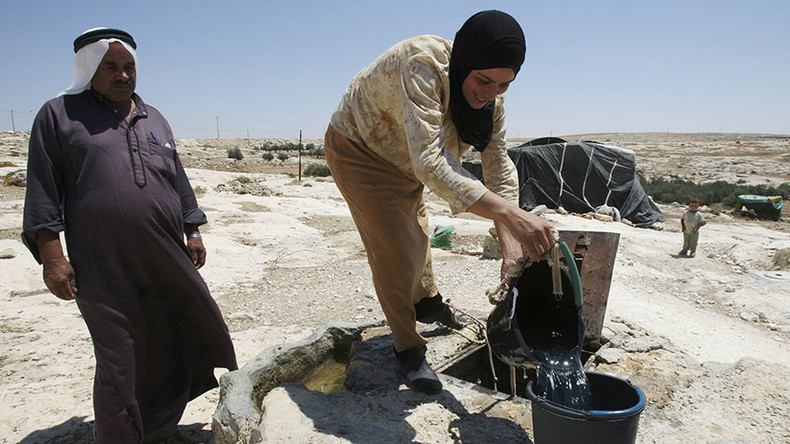 Israel's National Infrastructure Minister Yuval Steinitz has been forced to block a plan that would see the country's national water company build more infrastructure to provide water for controversial Jewish settlements, than for Palestinians, who already receive less.
In its future infrastructure plan, discussed at an unpublicized official meeting in September, the state-owned Mekorot Water Company proposed increasing the amount of water for Palestinians in the Israel-controlled West Bank from 45 cubic meters per person currently, to 65 cubic meters by 2050. In comparison, by the end of that period the Israeli settlements on the land occupied by Israel following the Six-Day War in 1967, would be receiving 40 percent more water.
Details of the meeting were disclosed by the Hebrew-language news website The Marker, and cited in the Haaretz, an English-language daily.
Steinitz reportedly dismissed the proposal outright, claiming that the company was violating international conventions that stipulate that it is illegal to discriminate when providing vital infrastructure on the basis of ethnicity, and forced Mekorot to draft another plan, which has not yet been presented.
The company unsuccessfully argued that the Palestinian Authority, which is striving for political and economic independence from Israel, should also have some responsibility for providing infrastructure for its citizens.
Mekorot also justified the difference in provision by claiming that Palestinians, who have a lower standard of living, do not currently use as much water as the Israelis. The reason for this is already a hot topic in a region that suffers from natural water shortages.
Mekorot imposes annual summer cuts that decrease the pipeline supply by over 50 percent, which often last into the autumn, and disproportionately target the Palestinian community. Al Jazeera and other Arab world media have reported that some villages have been receiving water for as little as two hours a week.
Israel also reserves the right to refuse building permission for Palestinian infrastructure projects in the West Bank, with many of the most effective ones helping remote communities pushed through by official international bodies and foreign charities.
As it is Palestinians consume an average of 70 liters of water a day, and the Jewish settlers 300 liters. The WHO recommendation for daily consumption 100 liters per day per person.
The issue of water distribution is likely to become more pressing for both communities inhabiting the region – the same Mekorot proposal predicts that the Arab population of the West Bank will grow from 2.1 to 6.3 million by 2050, and the settler population from 374,000 to 917,000.
The UN has urged all parties to stop politicizing the vital issue, which affects the local economy, health and the environment in the West Bank.
"Water should be a source of collaboration and should bring people together. At the end of the day, they all share the same water resources." Gregor von Medeazza, chief of the water, sanitation and hygiene program at UNICEF, told Israeli media earlier this month.