'Who'll boss us around?': Russian FM spokeswoman translates NATO chief's call on Trump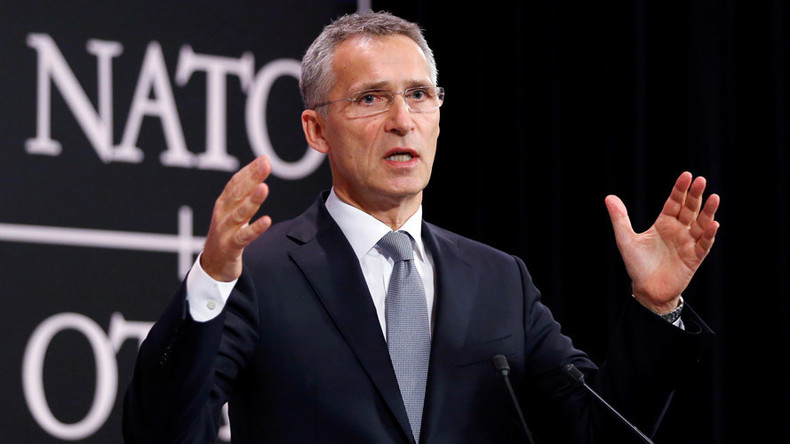 Russian Foreign Ministry spokeswoman Maria Zakharova mocked NATO Secretary-General Jens Stoltenberg for pandering to Donald Trump in his latest article with the Guardian, blasting the military bloc for over-dependence on the US.
"We face the greatest challenges to our security in a generation. This is no time to question the value of the partnership between Europe and the United States," Stoltenberg wrote in the British newspaper.
"In the last few years we have seen a dramatic deterioration of our security, with a more assertive Russia and turmoil across north Africa and the Middle East," he added.
The NATO chief's article seems to be trying to make Trump change his stance on the military bloc, which he accused of being helpless against a terrorist threat during his campaign.
The US president-elect also threatened to tell NATO allies, who don't "reimburse" Washington's military protection that they would be defending themselves.
In his article, Stoltenberg stressed NATO's contribution to international security, adding that "for 67 years this partnership has been the bedrock of peace, freedom and prosperity in Europe.
"In these uncertain times we need strong American leadership, and we need Europeans to shoulder their fair share of the burden. But above all we need to recognize the value of the partnership between Europe and America. It remains indispensable," he wrote.
"So rather than deepening our differences, we need to nurture what unites us, and find the wisdom and foresight to work together for common solutions," he added, warning the US that "going it alone is not an option, either for Europe or for the US."
The secretary-general also recognized Trump's demand that other NATO members increase their contribution to the bloc, which has been manly sponsored by the Americans.
"The partnership between Europe and America is founded on deeply-shared interests and common values. At the same time, a viable partnership depends on all contributing their fair share. The US currently accounts for almost 70 percent of NATO defense spending, and has rightly called for a more equitable sharing of the burden," he wrote.
Zakharova took to Facebook to explain to her readers what Stoltenberg truly meant to say in his article.
"Here's the summary of the publication translated into, so to speak, the language of 'real politics'," she wrote.
According to Zakharova, the NATO chief was really wondering: "Who's going to pay the bills and boss us around? Who's going to fund all this obscurantism, which we promote by Washington's merit? As, in the past few years, we've forgotten how to think or act by ourselves."
READ MORE: Jean-Claude Juncker: 'We will need to teach Trump what Europe is and how it works'
"We went to great lengths to please the American establishment, including deploying troops and weaponry on our sovereign territories in the time of peace. How are we going to look our people in the eyes?!! They'll never forgive us for this, especially after sanction wars, which undermined entire branches of our carefully built economy. And you [the US] will regret it when we start living on our own here.
"We turned a blind eye to what the US did in Afghanistan. That the production of drugs ... has grown many times over. And these drugs are, in the first place, sent to us, to Europe. We remain silent about the fact that thousands of soldiers from NATO countries were hurt in America's escapade in Iraq – not because we are ashamed, but because you have been paying us to do so.
"And take note, it was enough for us. We are even ready for a smaller allowance, if you wish. We've agreed to spoil our relations with Russia, accusing it of all sins for the sake of the ruling US administration, which made a bid on anti-Russian policy to retain the White House."
READ MORE: German defense minister says Trump should be firm with Russia as NATO stood by US after 9/11
"Please understand, we don't want to take our blindfold off because then we'll have to acknowledge not only that we have lost touch with reality, but also that we are naked. Forever yours, hopefully, NATO General-Secretary," Zakharova concluded her interpretation of Stoltenberg's Guardian column.
WATCH MORE: