Colombian govt, rebels reach new peace deal after referendum rejection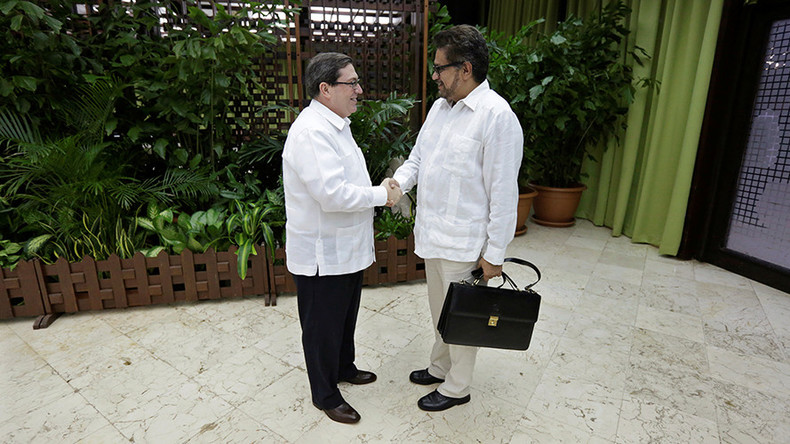 Six weeks after a peace deal between the Colombian government and FARC rebels was rejected in a referendum by a margin of less than one percent, the two parties have proposed a new deal aiming to end 52 years of strife.
The new agreement between Bogota and the Revolutionary Armed Forces of Colombia unveiled on Saturday incorporated suggestions from Colombian opposition groups, religious leaders, and other stake holders.
"We call upon all Colombia and the international community... to back this new accord and its quick implementation so as to leave the tragedy of war in the past," the two sides said in a statement. "Peace cannot wait anymore."
President Juan Manuel Santos received this year's Nobel Peace Prize for the four-year peace talks with FARC despite the surprise October rejection of the deal in a referendum. The revised accord is expected to be sent to parliament rather than being put to a new referendum.
The new deal keeps a controversial part that gives FARC 10 seats in Colombia's parliament through 2026. It does not include a ban on FARC leaders holding political offices, which some people demanded.
"It is very important Colombians understand that the reason for all peace processes in the world is precisely that rebels lay down arms and can participate in legal politics," President Santos said in a televised address.
But it does have stronger clauses for holding FARC accountable for crimes and paying compensation to victims. Special tribunals would review cases related to the rebels for a period of 10 years. Concerns over lenient sentences for FARC fighters confessing to crimes was one of the major reasons Colombians voted against the deal in October.
Former President Alvaro Uribe, who led the opposition to the original accord, said the modified deal still did not go far enough. Uribe, who met with Santos on Saturday, said his camp and the conflict's victims should be able to study the new deal before it is implemented. Copies of the new accord are to be made public on Sunday.
READ MORE: Colombians reject FARC peace deal by tiny margin

FARC, a Marxist rebel group, was formed in 1964 and reached prominence in the 1980s and 90s. At its peak, it was Latin America's largest and best-equipped militant organization, with an estimated 20,000 fighters. The five-decade struggle with the government has claimed more than 220,000 lives.
You can share this story on social media: