From Bikini Bottom with love: Soviet star in Voronezh revamped into Sponge Bob's Patrick (PHOTO)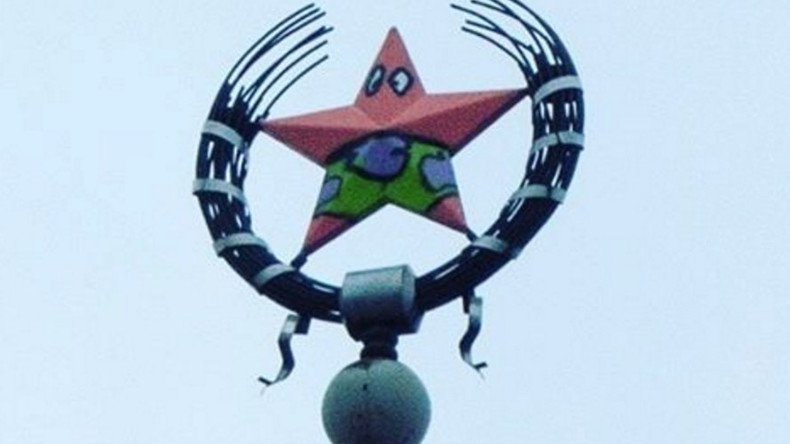 A Soviet-era star on the tower in the city of Voronezh has been given 'Patrick' styling, adding a touch of Bikini Bottom to the place. Would the overweight pink starfish ever have thought of traveling so far?
While social media users were quite amused with the stunt that surfaced online Thursday evening, Voronezh police were not so entertained. Now the fans of the US animated series – if found – could face 15 days in detention.
The building in the southwestern city is not considered a memorial, but it still has Soviet symbols, Poman Ponizovny, an official from Voronezh Central District, told RIA Novosti. Restoration works may cost the city up to 100,000 rubles ($1,500).
A poll under the photo in one of Voronezh online communities showed that most people – around 60 percent – found the stunt funny, while 39 percent say that it was an act of vandalism that shouldn't go unpunished.
In the comments, some users wondered if the square in front of the building should now be "painted as Sponge Bob" to match the star.
In the meantime, local roof toppers said that they weren't involved in the action and are ready to "wash Patrick off the star."
READ MORE: Star Wars: Ukraine, Russia flags top Moscow's iconic Stalin skyscrapers
The painting of a star on a Russian building is not an isolated case. In 2014, a Ukrainian flag appeared on the 176-meter-tall building on Kotelnicheskaya Embankment in Moscow. The activists also managed to paint the upper part of the massive gold star on top of the spire blue, so that it would also resemble the yellow-blue Ukrainian national flag.
You can share this story on social media: