'That's how the light gets in': Singer-songwriter Leonard Cohen dies
Published time: 11 Nov, 2016 03:35
Edited time: 11 Nov, 2016 12:16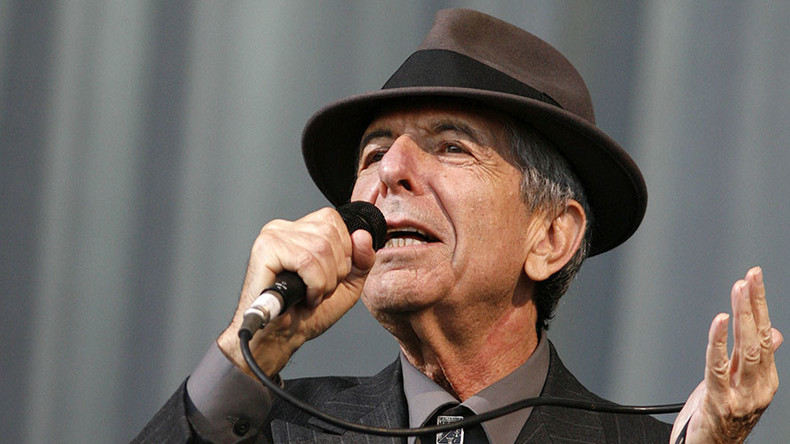 Beloved songwriter Leonard Cohen has passed away at the age of 82. Sony Music Canada, his label, confirmed his death on Cohen's Facebook page. Cohen's work spanned decades, but he was likely best known for the song "Hallelujah."
His final album, You Want It Darker, was released in October and received widespread acclaim from music critics.
There will be a memorial for him in Los Angeles at a later date, according to Sony Music Canada. However, many artists and musicians shared their favorite lines from the often melancholy musician, as well as interesting stories
Montreal Mayor Denis Coderre called Cohen an "ambassador and icon" and announced that flags would fly at half-mast.
Cohen's most recent interview showed a version of him that seemed aware of his mortality. "At a certain point, if you still have your marbles and are not faced with serious financial challenges, you have a chance to put your house in order," he told the New Yorker.
Cohen's career hit a bump when he learned that his manager, Kelley Lynch, had stolen money from Cohen's retirement fund. He took her to court in 2005, but her refusal to respond to a subpoena for her financial records prevented Cohen from ever recouping his money.
Many speculate that this is the reason behind his 2008 international tour. The tour was his first in 15 years and lead to a rejuvenation of his career, including a live album and an additional leg of his tour that was added in 2009.
He embarked on an additional tour in 2012 and traveled across Europe as well as North America, Australia and New Zealand.
In 2014, he released his penultimate album Popular Problems.
While Cohen was best known for his music, he began his artistic career as a writer and returned to writing in 2006 with his book of poetry and drawings, Book of Longing. He continued writing verse and had a poem published in the New Yorker in June 2016.
Cohen is survived by his daughter, Lorca, and his son, Adam. Mourners have gathered outside of his Montreal home to sing his songs and pay their respects.