Suicide bomber rams explosives-packed car into German consulate in Afghanistan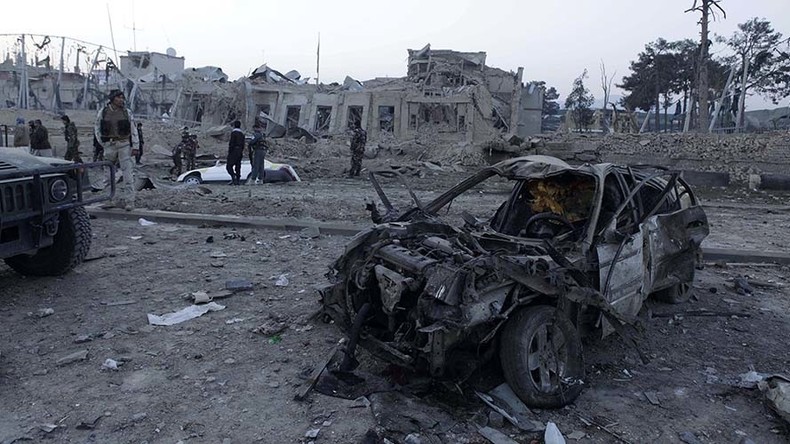 At least two have been killed and around 60 injured after a car bomb rammed into the outer wall of the German consulate in the northern Afghan city of Mazar-i-Sharif. NATO forces secured the premises following the attack, for which the Taliban claimed responsibility.
The blast occurred around 23:05 local time, according to the Bundeswehr Joint Forces Operations Command. A NATO response team was deployed from a nearby military base, a German military spokesman told Reuters, confirming that shots had been heard outside the consulate.
Afghan special forces cordoned the area off and military helicopters have been reportedly seen buzzing around.
Local journalist Tahir Qadiry reported that shots were fired by German soldiers to prevent anyone from approaching the compound.
Germany's foreign ministry confirmed "fighting outside and on the premises of the consulate," but said the attack had successfully been repelled.
"The suicide attacker rammed his explosives-laden car into the wall of the German consulate in the city," local police chief Sayed Kamal Sadat told AFP.
There's a strong possibility that the attack on the consulate involved two car bombs, according to a spokesman for NATO forces in Mazar-i-Sharif. "There are massive damages to the consulate," the spokesman said, adding that the suicide bomber rammed the car into the high outer wall surrounding the consulate. The troops were investigating whether or not a second car was involved, since the presence of additional explosives in the area "could not be ruled out," the NATO spokesman said.
At least two people were killed in the attack, according to the head doctor of a local hospital, Noor Mohammad Fayez. DPA reported that up to 50 people were wounded in the attack, but there was no official confirmation about the casualties so far. All German personnel at the compound have been rescued, according to the local police chief, cited by Reuters.
Afghan government spokesman Munir Farhad confirmed the attack to DPA. The majority of injuries were caused by glass from surrounding buildings shattering, he added.
A crisis task force was assembled by German FM Frank-Walter Steinmeier at the Foreign Ministry late on Thursday, Reuters reported, citing a ministry source.
The Taliban has taken responsibility for the bombing. Taliban spokesman Zabihullah Mujahid said that the attack was a revenge for the last week's airstrike in Kunduz that killed about 30 civilians, Dutch BNO news reports.