EU Commission president wants clarity from Trump on NATO, trade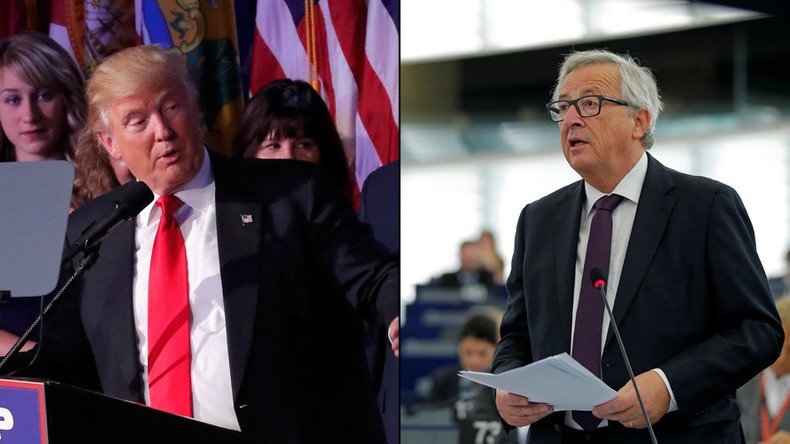 The European Commission president expects that in the next few months, US President-elect Donald Trump will clarify his stances on NATO, trade with Europe, and climate change – issues on which he made controversial statements during his campaign.
"We would like to know how things will proceed with global trade policy," Jean-Claude Juncker said at a business event in Berlin. "We would like to know what intentions he has regarding the (NATO) alliance. We must know what climate policies he intends to pursue. This must be cleared up in the next few months."
Trump said European members of NATO were not pulling their weight and that the US may consider dropping out of the alliance because of it. He also questioned global climate change and spoke out against free trade, blaming it for job losses in the US.
Earlier on Wednesday, Junсker said the EU needed an army of its own to ensure its security. Part of the opposition to the idea of a pan-European military force came over the fact that it would compete with NATO as a security provider on the continent.
Junсker, who spoke at a business event in the German capital on Thursday, said he now did not expect the Transatlantic Trade and Investment Partnership (TTIP), a trade deal between the US and the EU, to be signed any time soon.
"The trade deal with the United States, I do not view that as something that would happen in the next two years," he said.
Seeing TTIP signed is one of the key goals of the Obama administration, but the treaty has been stalled due to bickering between Washington and European capitals. European powerhouses like Germany and France blamed the US for this, saying America would not compromise on issues critical for the Europeans. The negotiations came amid growing protest in Europe, with critics concerned that TTIP would give too much power to big corporations while eroding the EU's labor, health, and environmental standards.
The European Commission head acknowledged that the rise of Euroscepticism could be partially explained by the commission's record of "sticking its nose" into the details of people's lives.
"There is now a draft for an EU directive, which I stopped, about the height of heels of female hairdressers all over Europe," Juncker said. "So I stopped that and now I have a row with the European labor unions."
You can share this story on social media: