US sends largest ammo shipment in 20yrs to Germany amid ongoing European buildup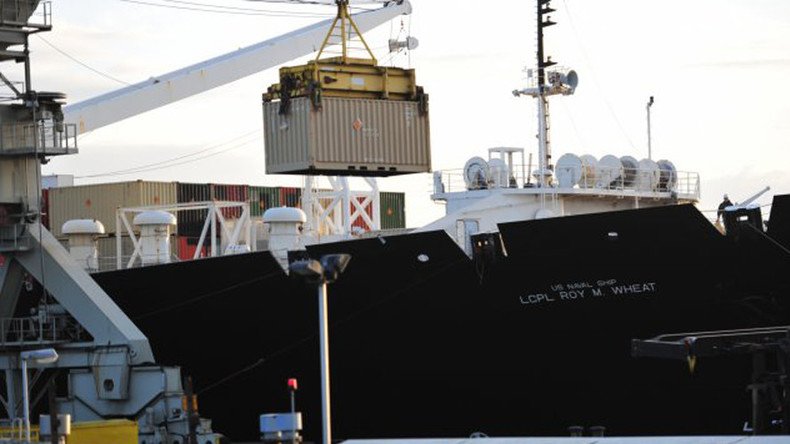 The US military sent over 600 containers of ammunition to Europe, the largest single shipment in more than 20 years. The move comes just a week after the Pentagon announced the deployment of a 6,000-strong tank brigade to Eastern Europe next year.
Some 620 shipping containers packed with ammunition arrived at the northern German port of Nordenham at the end of October. There they were loaded onto trains and transported to the Miesau Army Depot for storage and distribution to other locations across Europe, the US Army said in a statement.
"This is about deterrence. We could have 1,000 tanks over here, but if we didn't have the ammunition for them they would not have any deterrent effect," said Lt. Gen. Ben Hodges, commander of US Army Europe.
He added that German military and civilian staff have been helpful in moving the ammunition supplies to the Miesau depot, which was "only possible because our ally, Germany, allows it to happen."
By enabling the movement of US Army ammunition and equipment through its territory, Germany is contributing to "deterrence," Gen. Hodges said.
"We're bringing ammunition into the theater to resupply and set the stage for the European theater for any type of exercises or potential future missions that may come about," said Lt. Col. Brad Culligan, commander of the US Army's 838th Transportation Battalion.
The shipment is yet another part of the massive military buildup taking place in Eastern Europe, where the US and NATO are developing military infrastructure and headquarters as well as building weapons and ammunition stockpiles to defend the region against what they describe as "Russian aggression."
Earlier in November, the Pentagon announced deployment of two heavily-armed army units, the 3rd Armored Brigade Combat Team (3rd ABCT) of the Colorado-based 4th Infantry Division as well as the New York-based 10th Combat Aviation Brigade, to Europe in January 2017.
Meanwhile, Gen. Hodges said in early October that he also wants to see anti-drone weapons systems in future arms deliveries to counter Russia, according to Military.com.
Those weapons systems would include the Avenger, a Humvee equipped with eight FIM-92 Stinger missiles, as well as the German-made Gepard, a twin-33mm cannon mounted on a Leopard tank chassis.
The US Army also plans to equip the 2nd Cavalry Regiment in Europe with the new version of the M1126 Stryker infantry fighting vehicle armed with a more powerful 30mm cannon in May of 2018, according to the website.
Armaments aside, the buildup is also coupled with numerous exercises taking place in the Baltic states, Poland and in the Black Sea, with the stated goal of assuring Eastern European allies of NATO's commitment to defending them.
Russia has consistently referred to the buildup as a provocative measure which undermines European security, promising to take reciprocal steps.
You can share this story on social media: