'Trump effect' now possible elsewhere due to Western leaders' images – German finance minister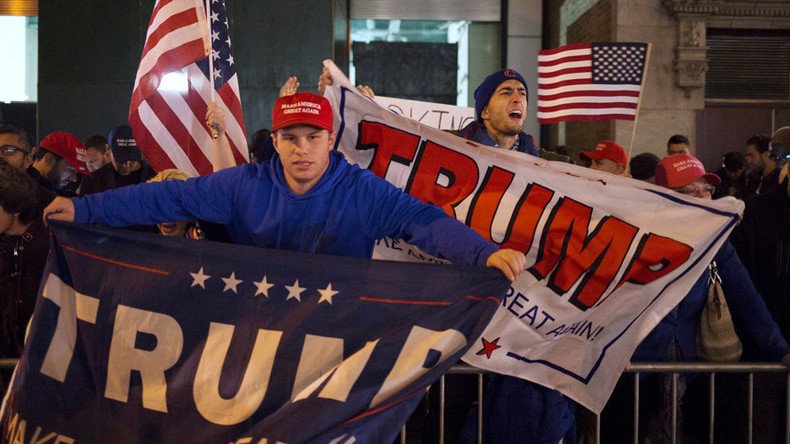 The Trump phenomenon is now cause for concern in the West as leaders in politics, business and society have stained reputations and lose ground to "demagogic populism," Germany's finance minister warns, urging established elites to heed the lesson.
Donald Trump's unexpected victory in the US presidential election will surely have a tremendous impact on Germany and beyond, Wolfgang Schaeuble, a political heavyweight in Berlin, wrote for Bild magazine on Thursday.
"Demagogic populism is not only America's problem. Political debate elsewhere in the West is also in an alarming state," he noted.
Populist agendas are on the rise as "the elites in politics, business and society do not always provide a good impression," Schaeuble said, adding that decision-making within those elites is often difficult to comprehend.
"Everyone must be ready to learn, and if we are open to the prospect of change and the ability to rethink, demagogic populism would have a hard time," he concluded.
Schaeuble's remark has been echoed earlier by Sigmar Gabriel, German vice-chancellor and economy minister, who on Wednesday called Trump's victory a warning signal for both Germany and Europe. The US president-elect "is the pioneer of a new authoritarian and chauvinist international movement," Gabriel said, as cited by Reuters.
German Defense Minister Ursula von der Leyen said the US election results were a "huge shock" while speaking on German TV.
In the meantime, far-right forces across Europe welcomed the news, meaning that it comes as a backlash to the establishment's stained reputation.
Austria's far-right Freedom Party (FPO) leader, Heinz-Christian Strache, said on Facebook "the political left as well as the aloof and sleazy establishment are being punished by voters and voted out of various decision-making positions."
His party's candidate Norbert Hofer, openly critical of the EU, is running for the Austrian presidency in elections scheduled for December 4.
Nigel Farage, UK Independence Party leader who championed Britain's exit from the EU, congratulated Trump for his "supersized Brexit" victory.
"The nation state is back. 2016 is the year that people voted for change and to take back control of their lives. The Trump victory is like a supersized Brexit," he said in a statement on Wednesday, quoted by Reuters.
Earlier he said he would accept a job from Trump if the latter became president.
You can share this story on social media: