Industrial plant collapse kills 4 in Ural region, Russia
At least four people have died and 14 were reportedly injured when sections of an industrial plant collapsed in Ekaterinburg, in Russia's Ural region. One worker from the plant is missing, a local police spokesperson said.
According to the Russian Investigative Committee, floor structures between two operating departments collapsed, killing four people, including three men aged 60, 54 and 30.
"We were sitting at the building in front [of the collapsed plant], heard a roar and saw a cloud of dust. We looked out the window and saw that a roof had collapsed in the nearby building. Some people got out of the windows, others were running around, removing those injured from the building," an eyewitness told Е1.RU.
According to Russia's Emergencies Ministry, more than 470 people and 80 units of equipment are currently involved in the removal of the collapsed plant's sections.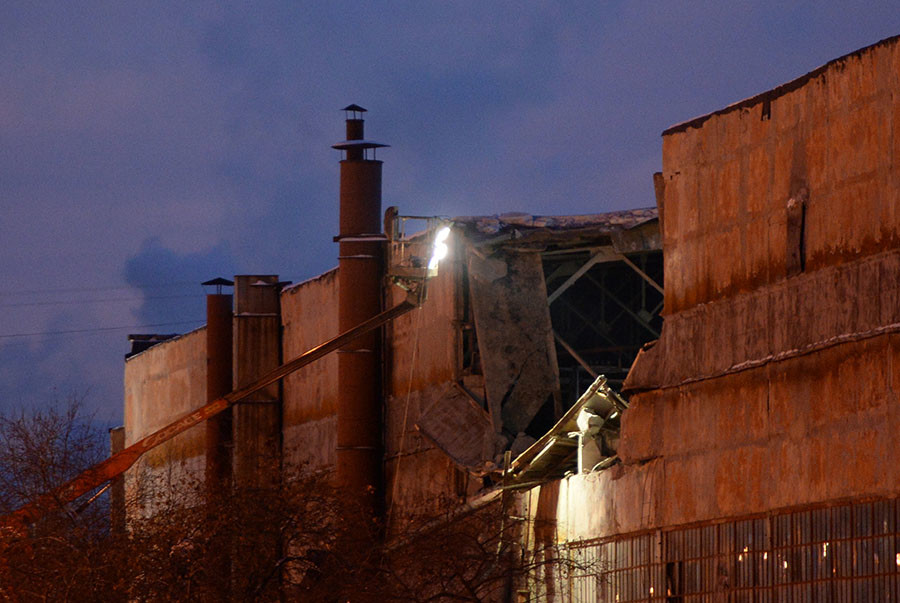 Rescue operations are underway and a criminal investigation into the incident has been launched.
The area of collapse covers nearly 2,000 sq. meters. According to preliminary data, the cause of the incident could be snow accumulated on the roof of the plant after heavy snowfall.
According to preliminary data, there are no people under the rubble of the collapsed roof, Russia's Emergencies Ministry told Interfax news agency. There were 119 workers in the operating department at the time of the incident, with 101 evacuated, another 14 taken to hospitals, and four dead. "Four people are in a serious condition," Russia's Emergencies Ministry said.
The Kalinin Machine-Building Plant is a large industrial factory, now part of Almaz-Antey, the giant Russian arms producer. Founded in 1866 in St. Petersburg by a decree of Russian Emperor Alexander II as an artillery workshop, it grew to become a factory of field, and later of anti-aircraft, artillery. Now, it produces both military and civil equipment.