Hundreds gather outside UK embassy in Moscow in so-called 'embassy wars' over Syria (VIDEO)
Another protest in retaliation to provocative acts in Britain and Ireland last week over Russia's involvement in Syria has taken place in the Russian capital.
Some 300 people gathered on Monday outside the British embassy in central Moscow. The protest – which was reportedly unsanctioned by the authorities – accumulated a larger number of people than the previous demonstration, despite stormy weather.
Holding banners and chanting the slogan "England is war", protesters threw dog leashes and muzzles at the doors of the diplomatic mission. With US flags taped to the props, the protesters said they wanted to send the message to London to stop following the lead of Washington regarding the situation in the Middle East.
Another prop – a huge white dove, the international symbol of peace, wrapped in barbed wire and skewered with "US" arrows was put in front of the embassy gates. Demonstrators claimed that western nations are trying to ruin the peace process in Syria.
READ MORE: 'These people have no idea about real situation in Syria': Russia slams Dublin embassy protest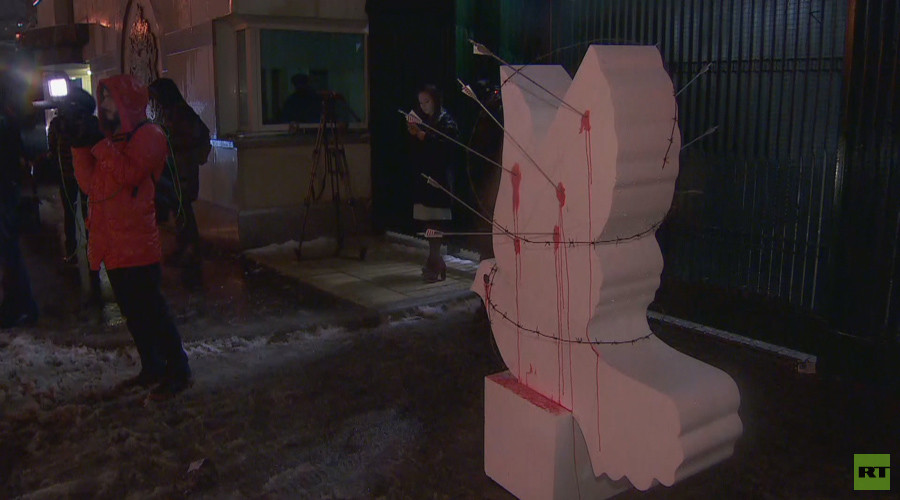 The wave of embassy protests and counter-protests started last week, when campaigners in the British capital blocked the gates to Russia's diplomatic mission with some 800 mannequin limbs. The act – which protested Moscow's military involvement in Syria – impeded the mission's functioning with the UK authorities unwilling to provide security for the embassy, Russian ambassador to the UK Aleksandr Yakovenko said. The mission has sent a letter of complaint to the UK Foreign Office.
WATCH MORE: