Thousands of soldiers march in Moscow for WW2 parade's 75th anniversary (PHOTOS, VIDEO)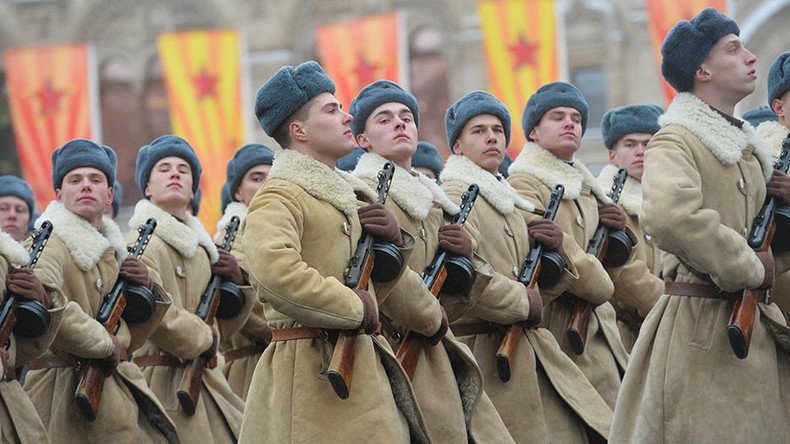 Thousands of soldiers dressed in period uniforms along with a wide range of historical military hardware have taken part in a march marking the 75th anniversary of a legendary 1941 parade that saw Soviet troops off from Moscow to World War II battlefields.
Some 5,000 servicemen and cadets, along with around 40 military hardware units, including Katyusha rocket launchers, T-34 tanks, and artillery guns, were on display on Red Square, according to the office of Moscow's mayor data.
The event commemorated the historic Red Square Parade on November 7, 1941, when Red Army troops left for the front lines of World War II.
Today's parade was attended by some World War II veterans who received thanks and congratulations during the reenactment as they watched the soldiers file by in 1940's uniforms.
Performers sang patriotic songs from the time, while Moscow's iconic Red Square truly turned red with dozens of red Soviet flags and banners waving in the wind.
By November of 1941, German troops had already advanced dangerously close to Moscow, and the parade gave a sendoff to the soldiers who would take part in the defense of the city that ultimately proved successful.
The event was supposed to lift the morale of the troops, as Moscow Mayor Sergey Sobyanin put it in his opening remarks.
"It [the parade] was a moral victory that paved way to the complete defeat of the Germans near Moscow and Stalingrad, in the Kursk Salient, and in other battles," he said.
One of the veterans of the Great Patriotic War, Mikhail Tereshenko, who was present at the very first parade, told TASS about what he felt like as he marched past the Kremlin back in 1941.
"All of those who took part in the parade and I felt an unbelievable uplifting to fight the enemy as we marched through Red Square. We were sure that the Nazis wouldn't enter Moscow, we wouldn't let them go," Tereshenko said.
This is the 14th time the march marking the parade's anniversary has been held. In 1941, more than 28,000 soldiers took part in the one-hour-long parade.
The term Great Patriotic War, which covers the period from 1941 to 1945, is traditionally used in Russia and other former republics of the Soviet Union. The end of Great Patriotic War took place on May, 9 1945 – Victory Day. The term World War II is more commonly used in the Western world and marks the beginning of the war in 1939, when the Nazis attacked Poland.
You can share this story on social media: