Turkish riot police use water cannon, tear gas against Istanbul protesters (VIDEO, PHOTOS)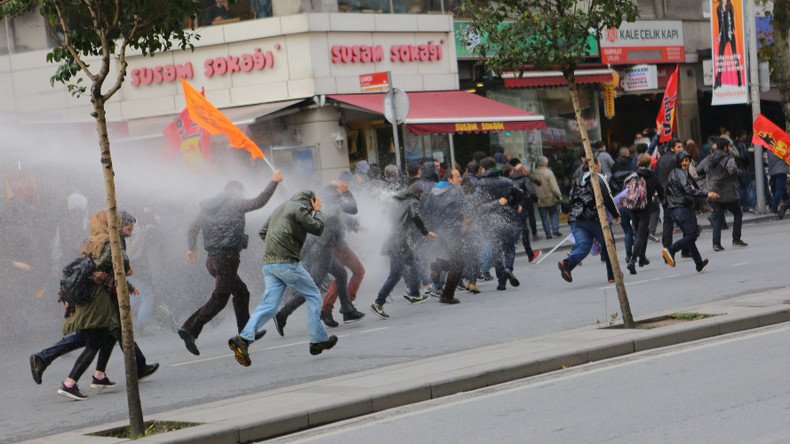 Turkish police have used water cannon and teargas against protesters as hundreds took to the streets of Istanbul to demand the release of journalists and editors of the opposition Cumhuriyet newspaper.
The massive demonstration in the center of the Turkey's capital came just hours after Turkish authorities ordered the formal arrest of nine Cumhuriyet staff members and detained more pro-Kurdish officials.
The protesters are trying to march to the office of the Cumhuriyet newspaper, while police are attempting to block them.
Numerous protests have also hit other Turkish cities, with some ending in clashes with police. At least ten protesters were detained in Ankara, five n Antalya, and seven in Istanbul, Al Bawaba news reports, citing Turkish officials.
Meanwhile, in London, the Kurdish community also took to the streets to protest the crackdown on journalists and pro-Kurdish politicians in Turkey.
The protesters reportedly pelted the Turkish embassy in London with eggs, breaking at least one window.
On Friday, two co-leaders of the Turkish pro-Kurdish People's Democratic Party (HDP) were arrested along with 12 of its MPs. The lawmakers were detained after "failing to appear for a summons to testify as part of a counter-terrorism investigation," Anadolu state news agency reported.
At the same time, Turkey's major internet providers restricted access to Twitter, Facebook, and the WhatsApp social messaging app, according to Turkey Blocks, an independent organization that monitors internet censorship in Turkey.
On Monday, Turkish police detained the editor-in-chief and several columnists and executives of the independent Cumhuriyet newspaper. They were accused of sponsoring the PKK (Kurdistan Workers' Party) and FETO/PYD (Gulenist Terrorist Organization/Parallel State Organization), as well as of producing articles justifying the failed July 15 coup.
Both crackdowns provoked sharp criticism from Europe and the US. European Parliament President Martin Schulz called the journalists' arrests a "purge... motivated by political considerations, rather than legal and security rationale."
EU foreign policy chief Federica Mogherini said she was "extremely worried" by the detention of the HDP MPs. US Assistant Secretary of State Tom Malinowski tweeted that he was "deeply troubled" by Turkey's actions.
Turkey reacted to the criticism by saying that it would not be intimidated by "threats" and "does not care about red lines" drawn by foreign politicians.
You can share this story on social media: