Massive wrecking yard fire releases toxic smoke, causes traffic chaos in Sydney (VIDEO)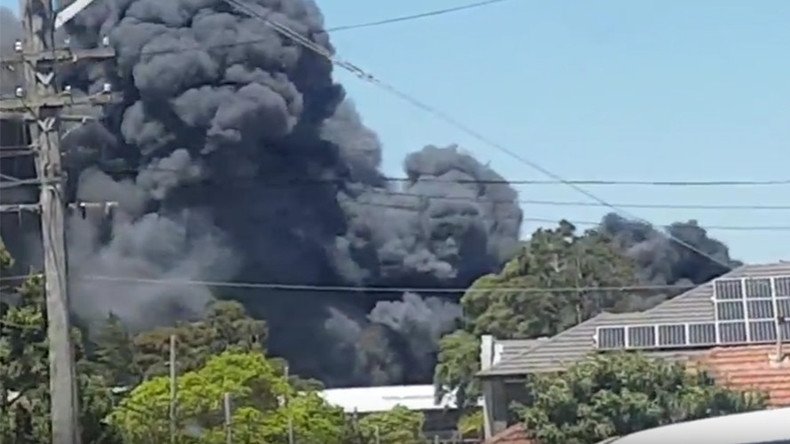 A major blaze has broken out at the car wrecking yard in Revesby, Sydney, some 22 kilometers southwest of the city center, forcing evacuation of nearby area as rapidly spreading plumes of toxic smoke caused traffic chaos.
Worrying reports on a possible gas explosion have been coming in.
Sophie Walsh, from Seven News Sydney, reported that a "10 meter high/wide fireball" is expected, citing firefighters.
Two people have been treated in local medical facilities for fire-related injuries, Nine News Sydney reported, citing police. One man has been suffering from minor burns, while another has been taken to the hospital to receive help for smoke inhalation.
Over 100 fire fighters have been dispatched to contain the fire as it risks spreading onto the nearby industrial and residential buildings, Nine News Sydney reports.
The ever-expanding blaze aided by over 60km/h, hauling winds have already destroyed many cars and made some local residents to rush in panic from the city, creating traffic chaos on the way out.
"This fire is a very hot fire and firefighting efforts are being hampered by the strong wind conditions which are threatening adjoining buildings," ABC quoted Superintendent Adam Dewberry as saying. He added that about 20 fire trucks with 100 firefighters have been battling the fire.
The yard reportedly belongs to the GMS Spares, which specializes in dismantling all late makes and model, according to its website.
The witnesses report that the smoke can be seen from different parts of the town.
"Sky is now completely grey," a local resident wrote on Twitter.
The evacuation orders have been issued for residents living in the surrounding area, Nine News Sydney report, as the fire gets closer to houses.
"Everyone must leave now," it cited police as saying.
Earlier, police called on people to stay indoors and sealed off the streets adjacent to the area on concerns that the smoke can be toxic.
So far there has not been any reports on casualties, or the causes that triggered the fire.
You can share this story on social media: