Indonesian police use tear gas as 1,000s of Muslims rally against Jakarta governor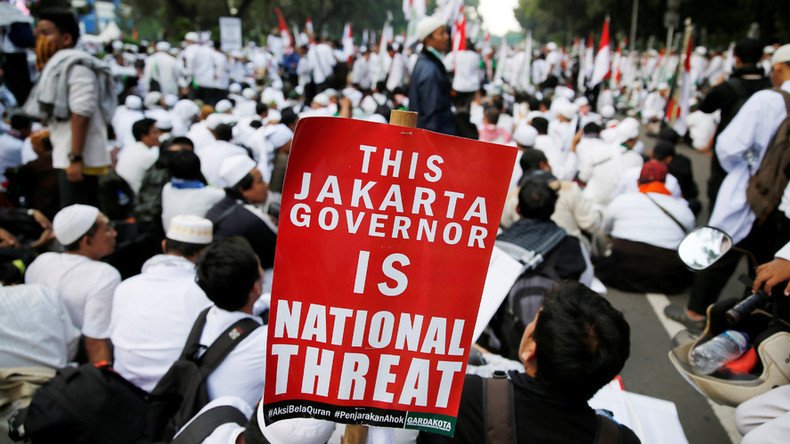 Tens of thousands of hardline Muslim protesters rallying against a non-Muslim governor they accuse of blasphemy marched in Jakarta, where multiple calls for violence and provocations from foreign jihadists resulted in tear gas and scuffles with police.
President Joko Widodo had put 18,000 police and military on alert in anticipation of the violence. The procession started as a peaceful march, but local Metro TV now reports that hardline Muslim protesters have reached the presidential palace, where they ran into police in riot gear. Some protesters threw plastic bottles into the police barricade.
Local TV One showed a fire that had been ignited at the national monument, where there are reports of thick black smoke, according to Reuters. The broadcasters said a vehicle had been overturned, but the cause was unclear.
Companies and businesses have asked their employees to work from home today, as the situation at present remains unpredictable. The Russian embassy also told its staff to stay home and to observe caution.
The latest accusations of blasphemy came after Governor Basuki Tjahaja Purnama, known also by his nickname Ahok, referred to a Koranic quote in an argument with political opponents who were urging Muslims not to vote for him. Being a Christian, hardline Muslims believe he has no right to quote their holy book to further his ends.
Purnama has also faced frequent attacks from Indonesians because of his Christian background, and his remarks prompted major Muslim organizations and Syrian jihadists alike to call for him to step down. Last month, a photograph emerged online from the Syrian-based terrorist group Jabhat Al-Nusra with a banner saying "punish Ahok, or our bullets will."
The governor recently struck out at the opposition for citing a Koranic verse that that they said warns Muslims against dealing with Christians and Jews, accusing them of "lying," setting off a chain reaction. His later apologies did nothing to dissuade Indonesia's leading hardliners, the Islamic Defenders Front, from calling for mass protests and demanding that the Chinese Christian be jailed.
Although it subscribes to a moderate form of Islam, Indonesia is the world's largest Muslim-majority nation, and suffers from frequent attacks against its Christian and Buddhist minorities.
The minister for political, legal, and security affairs, Wiranto, will meet with the protesters today. On Thursday, President Widodo and Vice President Jusuf Kalla released a statement calling for the rally to be peaceful.
In the meantime, an investigation into Purnama's blasphemy has been launched by the police. The president, a Muslim, has vowed not to interfere in the probe, Reuters cited the Indonesian Clerical Council as saying.
Ethnically Chinese people make up just one percent of Indonesia's population of 250 million, so politicians such as Purnama rarely make it into office. In this case, oppositional sentiment against the governor is overwhelming, despite some social media pockets of support.
The country has seen its fair share of protests, but Friday's was the biggest in quite some time. In extreme cases, people die, as was the case at a Bali nightclub in 2002, when an Islamist bombing claimed 202 lives. The current rise of Islamic State (IS, formerly ISIS/ISIL) has led authorities to fear further attacks. Earlier in January, IS supporters mounted an attack in Jakarta, with explosions and gunfire heard in several downtown spots, including a mall. A standoff ensued at the Skyline Building, in which four assailants and four civilians were killed, and 23 others were injured.
You can share this story on social media: