Paris police start evicting 3,000+ refugees from Stalingrad camp (PHOTOS, VIDEOS)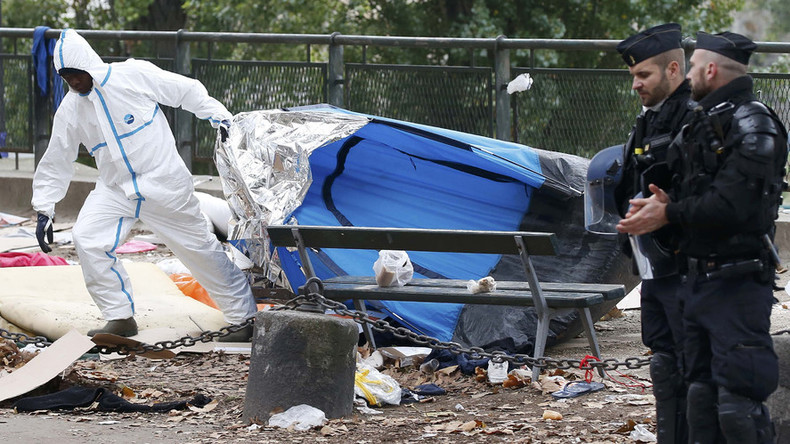 Paris police have begun moving refugees out of a camp near the capital's Stalingrad metro station, where some 3,000 were living in tents and makeshift shelters. Most arrived after the closure of the notorious Calais 'Jungle' camp, French media reported.
The evacuation began on Friday morning, with over 600 police officers deployed. Authorities plan to use 82 vehicles to transport the migrants to 70 refugee centers, AFP reported.
"This is the 30th sheltering operation within a year," Minister of Housing Emmanuelle Cosse said, adding that there have been "a lot of new arrivals."
"It is essential that we put them away. The objective is to put these people in shelters as quickly as possible," Cosse said.
Cosse also announced that one of the planned new refugee centers, La Chapelle in northern Paris, will open within the next few days.
"I have no idea where we are going. Somewhere near Paris, [I guess]... It's fine," a refugee identified as Khalid, 28, told Le Figaro, while noting "I should get my [migrant status] papers. It's been a month since I 've been living here in a tent, it's good to go."
Abderrahmane, 19, from Guinea looks a bit worried. "Where are we going? Paris or province?" he asked.
The majority of the migrants have been living in the 18th and 19th districts in the north of Paris near the Stalingrad metro station.
The number of asylum-seekers seeking shelter in the streets of Paris has noticeably jumped since the end of October when the notorious Calais 'Jungle' camp in northern France was shut down. Some of the boulevards in the two districts near the Stalingrad station have filled up with tents and makeshift shelters.
READ MORE: Asylum seekers pour into Paris, set up tents on streets as Calais camp closes (VIDEO, PHOTOS)
Migrants have been making a temporary home of the area since the winter 2016. Back in September, the authorities relocated the majority of the refugees living near the station and bulldozed the makeshift camp. Between 400 and 2,000 asylum seekers were registered at the camp during different periods of 2016.
Footage of the area emerged in October showing rubbish, broken tents, and trashed mattresses.
Despite repeated mass evacuations, asylum-seekers keep returning to the area around the Stalingrad station.
Fierce battles have broken out between the Stalingrad asylum seekers on several occasions.
In April, hundreds of migrants were seen attacking each other with metal poles, wooden planks, and other debris in an alarming video recorded by residents from a nearby building.
Social media has recently been asking if the Stalingrad camp could become the successor to the 'Jungle' in Calais.
In 2015, France removed 28 makeshift camps and rehoused about 19,000 refugees.