2 killed, 37 injured in 'poisonous substance' attack on Aleppo - Russian MoD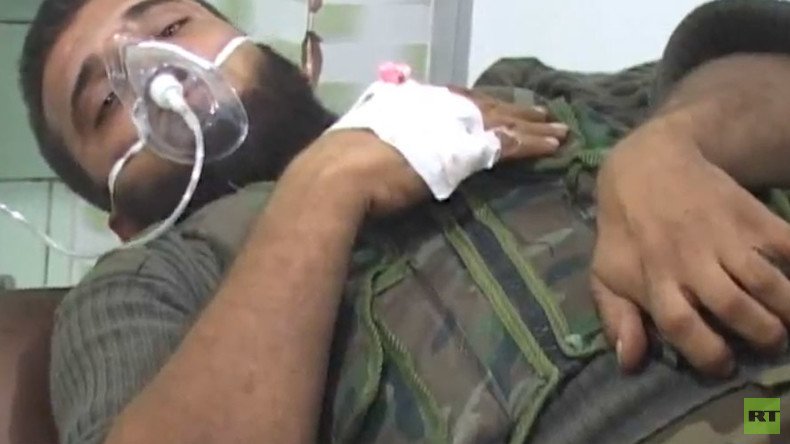 At least two Syrian military personnel were killed and 37 civilians injured in a terrorist attack that struck the government-controlled areas of Aleppo, in which the militants used toxic substances, Russia's center for reconciliation in Syria reported.
"Illegal armed groups fired homemade shells fitted with poisonous substances against the Dahiyat Al-Assad and Al-Hamdaniya districts in Aleppo" on Sunday, Russia's Defense Ministry reported.
The attack was first reported by Syrian media, who said at least 15 people experienced severe breathing problems following the assault.
A local doctor told RT that the symptoms among the injured pointed to the use of highly toxic chlorine gas.
On Monday, human rights NGO Amnesty International said it was investigating the incident, which it said could amount to "a war crime."
"What we saw in the videos is symptoms of some kind of an alleged chemical attack," Amnesty International Syria researcher Diana Semaan told RT. The organization blamed the armed Syrian opposition for the attack on western Aleppo.
READ MORE: 'End unlawful attacks in western Aleppo' – Amnesty Intl to armed opposition groups in Syria
The alleged chemical attack was launched amid a major offensive by the militants against government forces in Aleppo. Rebels from various groups are taking part in the assault, including those fighting under the FSA (Free Syrian Army) banner and Islamist militants.
In the course of 24 hours, the rebels conducted 58 shelling attacks on government-controlled regions in Syria. Aleppo has come under fire 29 times, according to the reconciliation center data.
You can share this story on social media: