Iceland PM resigns as Pirate Party makes election gains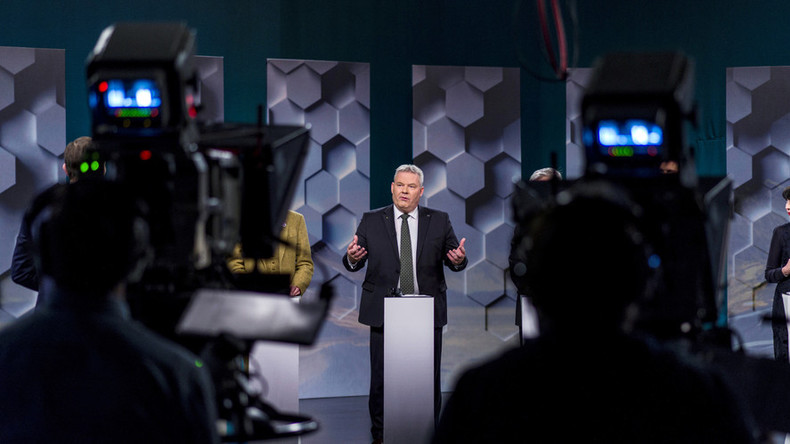 Icelandic Prime Minister Sigurdur Ingi Johannsson has resigned after the opposition Pirate Party beat the ruling Progressive Party and came third in the country's general election.
Johannsson made the announcement on national television, promising to leave his post after his center-right party received only eight seats against last year's 19 in the 63-seat parliament following Saturday's snap election.
"This was in accordance with the constitution, to hand in my resignation and then be asked to stay in office until a new government has been formed," Johannsson told reporters.
Johannsson took office in April after his predecessor, Sigmundur David Gunnlaugsson, was implicated in a tax-dodging scheme revealed in the Panama Papers scandal and was forced to quit.
The Independence Party, which has been in coalition with Johannsson's party, came in first with 29 percent of votes and 21 seats in the Althing, Iceland's parliament. The number of seats for the Independence Party has grown since the last elections, when it received 19 seats.
Polls had suggested that the Pirate Party was most likely to take the largest share of the vote, but it eventually ended third with 10 seats, behind the Left-Green Party, which also secured 10 seats in parliament.
The leader of the Pirate Party, Birgitta Jonsdottir, said she was happy with the election returns.
"Whatever happens, we have created a wave of change in Icelandic society," she said early on Sunday morning.
The party, founded in 2012, is overwhelmingly supported by voters that are under 30 years old. It focuses on public transparency, institutional reform and individual freedoms, and takes a strong stance against corruption.
The four leftist parties, including the Social Democratic Alliance and Bright Future, won 27 seats in total, while 32 are required to obtain a majority in the Althing.
The liberal Regeneration Party has already rejected the idea of joining the coalition of the current ruling parties, which means it could possibly join the left-leaning parties that would then form a new ruling coalition.
The shift in political sentiment in Iceland is attributed by many to the Panama Papers leak – the revelations which led to what the media say were the largest anti-government protests in Iceland's history – as well as the 2008 economic crisis.