Israeli justice minister claims BDS wants to 'wipe the Jewish nation off the face of the Earth'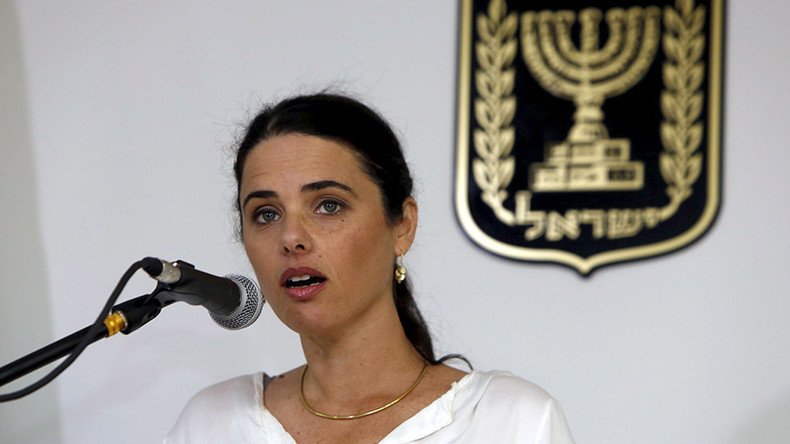 Israeli Justice Minister Ayelet Shaked has accused the Boycott, Divestment and Sanctions (BDS) movement of wanting to "wipe the Jewish nation off the face of the Earth" and of being "deeply rooted in anti-Semitism."
Shaked made the remarks Sunday at the opening plenary of the Jewish Agency for Israel's latest board of governors meeting.
READ MORE: 'Artistic freedom': Israel calls on Norwegian theater to help remove fake BDS clip (VIDEO)
The board, which meets at least three times a year, is the central policy-making body of the Jewish Agency, a large nonprofit organization which says it aims to "connect the global Jewish family."
Addressing the board in Jerusalem, Shaked warned "all those agents of ignorance and hatred" against testing Israel's strength and determination to defend the Jewish state, according to the Jerusalem Post.
The BDS movement is a global campaign, first launched in Palestine in 2005, to apply political and economic pressure to end Israel's occupation of Palestinian territories.
Shaked, however, insisted that the campaign has "no interest in promoting human rights, but in wiping the Jewish nation off the face of the Earth."
She also referred to the movement as anti-Semitism dressed up as a platform for freedom and justice.
"It's deeply rooted in classical anti-Semitism that has spread all over Europe throughout the past few hundred years," she said.
READ MORE: BDS 'new face of terrorism' - Israeli minister
The justice minister also claimed the movement was "defeated" and referenced a Bloomberg report from June on foreign investment in Israeli assets.
Foreign capital flow in the country has nearly tripled since the launch of the BDS movement 11 years ago, with investments reaching a record high of $285.12 billion, according to the Bloomberg article.
Shaked is renowned for her anti-Palestinian rhetoric and sparked controversy in July 2014 before she became justice minister for a Facebook post, later deleted, referring to Palestinian children as "little snakes" and apparent warmongering.
"This is a war. It is not a war against terror, and not a war against extremists, and not even a war against the Palestinian Authority. These too are forms of avoiding reality. This is a war between two people. Who is the enemy? The Palestinian people. Why? Ask them, they started...," she wrote.
READ MORE: Trump vows to recognize Jerusalem as Israel's capital after meeting Netanyahu


You can share this story on social media: