Hundreds protest in Madrid against PM Rajoy's re-election (VIDEO, PHOTOS)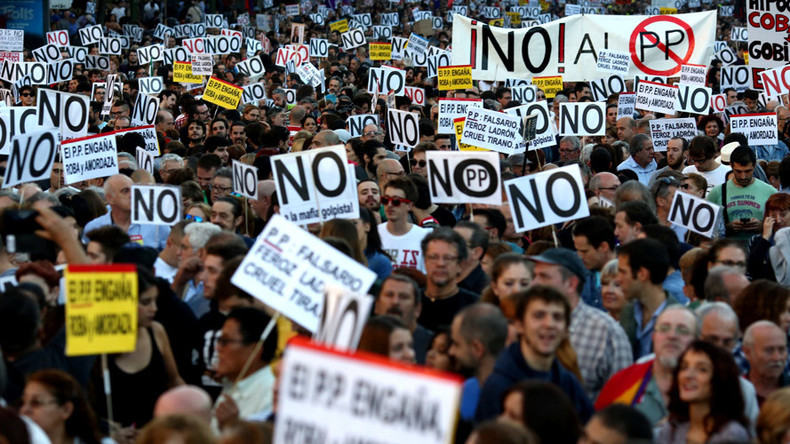 Several thousand demonstrators took to the streets of Madrid on Saturday to protest against conservative politician Mariano Rajoy, who is set to recover his former position as prime minister after winning a vote of confidence.
Around 3,000 protesters marched through central Madrid on Saturday afternoon chanting "against the mafia coup, democracy!" "no to the coup mafia" and "the president is a crook," with some holding up pictures depicting the Spanish PM and his supporters as mobsters. Others chanted "Felipe, putschist, you're a fascist," in reference to Felipe Gonzalez, the former socialist leader who is blamed for letting Rajoy back into power.

The demonstration was organized by the group 25-S, which is known for the 'Surround the Congress' protest of September 25, 2012. Saturday's march also had the backing of several leftist figures including Alberto Garzon, the leader of the United Left party, who was seen at the march, as well as members of the Unidos Podemos, an alliance consisting of the United Left, the populist Podemos and other left-wing parties.

There was a heavy police presence at the march, with 1,200 officers from the Police Intervention Unit (UIP) being sent in to protect Rajoy's inauguration ceremony at the Congress of Deputies. However, the demonstration seems to have passed off peacefully and there were no reports of any major disturbances, despite the presence of a number of masked men.
The vote marks the end of a 10-month crisis in Spanish politics, which left the country without a functioning government as bickering parties were unable to form a coalition. Rajoy's center-right People's Party (PP) was originally elected back in 2011, but its cuts to public spending and the subsequent mass unemployment, which reached heights of 27 percent, cost the party its parliamentary majority in December 2015, putting the government into deadlock and reducing Rajoy to a caretaker role.
However, Rajoy's recent victory has paved the way for a PP cabinet, due to be named on Thursday.

"I will announce the government on Thursday afternoon and they will be sworn in on Friday. I have already spoken with His Majesty the King [Felipe]," he told Reuters after the vote.