Russian MoD slams UNICEF & West's blindness to 'real' school attacks by terrorists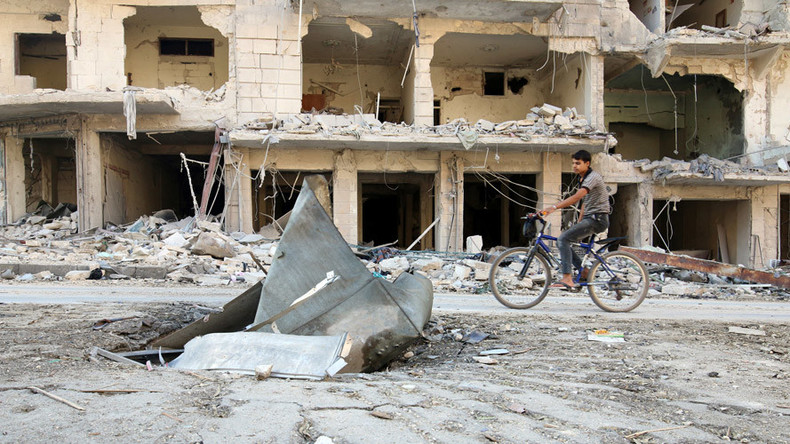 After providing evidence that Wednesday's attack on an Idlib school was apparently staged, Russian military officials have identified several other schools in Syria that have actually been targeted by bombings in the last 24 hours alone.
"On Thursday, a gas canister and a mine landed in classroom in Ḩadaiq al-Andalus, launched from eastern Aleppo, an area controlled by the terrorists. Three students died and ten more children had to be hospitalized," said Russian Defense Ministry spokesman Major-General Igor Konashenkov.
"At the same time, rebels were shelling a humanitarian aid corridor next to a school in the Al-Mashariq district, which is used to enable civilians to leave the city. Twelve people died, and more than 20 were injured," he added. "Why do UNICEF and certain members of the UN Security Council [UNSC] persistently refuse to pay any attention to that?"
Shortly after Moscow's criticism, UNICEF did in fact mention the western Aleppo incident in a statement that condemned attacks on schools in Syria as "simply inhuman" atrocities that "should deepen our disgust and outrage."
Konashenkov's words came a day after Anthony Lake, executive director of UNICEF, recited "reports" of the alleged airstrike on a school in Idlib, in which 22 children and six adults supposedly died, and labeled the incident a potential "war crime." The United States and France, likely the UNSC members referenced by Konashenkov, swiftly declared that the Russian or the Syrian air force was responsible for the incident.
READ MORE: NGOs should condemn terrorists in Syria, not Russia fighting them – Foreign Ministry
The Russian Defense Ministry issued a report debunking the Idlib attack on Thursday, after it sent out a drone to investigate the site and found no signs of aerial bombardment. Moscow also said that a widely-circulated photo from the school belied the allegations, and that video evidence of the strike had been edited together by the White Helmets, a Western-sponsored civil response group with ties to jihadists operating in Syria.
Last week, Russia paused its joint offensive with Syrian government troops on eastern Aleppo, which is held by an assortment of armed groups fighting alongside the Al-Nusra Front, an Al-Qaeda affiliate. Konashenkov said that Islamist militants were "taking advantage" of the fact that the Russian air force "has not approached a 10 km zone surrounding Aleppo for the past ten days."
"Using our lack of flights, each day the terrorists are intensifying attacks from artillery and homemade rocket launchers, which have been mounted in the Western [rebel-controlled] part of the city," he said.
On Wednesday night, despite the ongoing humanitarian pause, terrorists in eastern part of the city once again opened sniper fire on around 40 civilians who were trying to escape the rebel-controlled area.
"The terrorists continue indiscriminately shelling residential districts of the city with makeshift rocket launchers, blocking the civilians from leaving using the humanitarian corridors," said Konashenkov.