Putin takes part in Valdai club's final session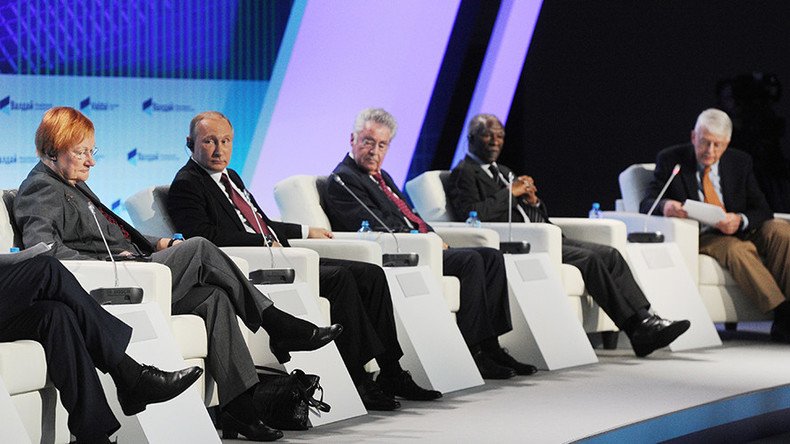 Russian President Vladimir Putin is discussing global challenges and Russia's place in a dramatically-changing world with experts of the Valdai club at its annual session in Sochi.
27 October 2016

16:57 GMT

Putin: Change is certainly necessary, but it must be evolutionary, not revolutionary. We saw how hurtful revolutionary change may be.

As for nuclear weapons. Nuclear saber-rattling is bad, I don't approve it. But one must keep in mind that a nuclear weapon is not a weapon of aggression, it's deterrence. Many experts believe that nuclear weapons were a major factor behind the lack of major armed conflicts in the world in the last 80 years. Russia is a responsible holder of a nuclear arsenal.

By the way, after America's withdrawal from the ABM Treaty we told them we would have to develop new attack systems. They said – 'OK, our system is not directed against you so we will assume that your weapons would not be directed at us.' So we are developing them.

16:53 GMT

Question: Do you think that further development of the Russian economy requires an overhaul of the political system? And a second question: do you think anti-American nuclear rhetoric on a Russian state channel is appropriate?

16:48 GMT

Putin: Everyone wants to defuse geopolitical tensions. But it should be done by obliterating us, should it?

They only act at the expense of our interests. They state a position they like and only work on making us accept it.

Anti-Russian sanctions would still be there without Crimea or Ukraine. They would have found other pretexts to target Russia.

16:47 GMT

Question: Don't you think Russians, especially the wealthy ones, want you to defuse geopolitical tension?

16:45 GMT

Putin: We were not the ones who put us in this position. We were open for dialogue, not unilateral moves that the US took.

And there is a difference. Take Crimea and Kosovo. Kosovo separated from Serbia after a bombing campaign. In Crimea nobody died. And in Crimea the parliament voted on it, unlike in Kosovo.

If you don't want us to act in a certain way, stop provoking us.

16:42 GMT

Question: The Americans may say that Putin criticizes the US to deflect criticism directed at him. The wording you use is so much like that used against you. Don't you think it hurts dialogue?

16:40 GMT

Putin: First: it's always good to listen to smart people. Second: It's a chance for me to state our position so that you can translate it in your nations.

16:39 GMT

Question: Why do you take part in the Valdai club, taking time to talk to the expert community?

16:38 GMT

Putin: About the rebels, this is a violation of the basic principle of settling conflicts. Ukraine insisted that the rebels signed the Minsk agreement and now refuse to talk to them. This makes no sense to me.

16:37 GMT

Question: Would we have won World War II if we and other Allies had constantly told each other that we are doing the fighting wrong? And another one, why don't the Ukrainian rebels take part in negotiations on their fate?