Mission accomplished? RT crew finds refugees still at 'Jungle' camp despite 'successful' eviction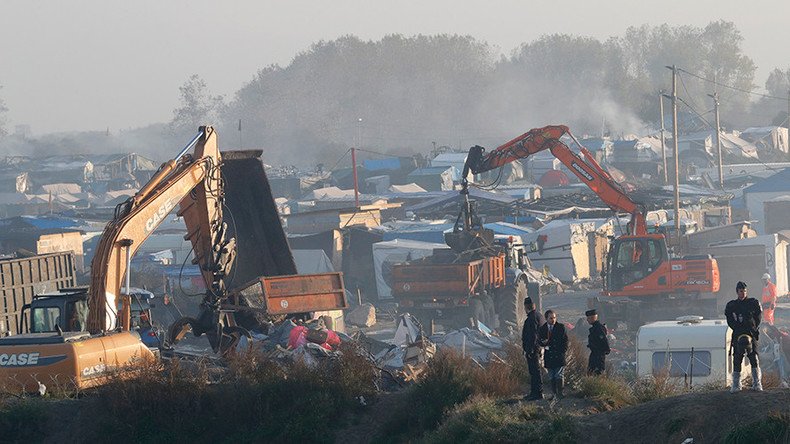 Local authorities in Calais claim that the 'Jungle' refugee camp has been successfully evacuated, but according to an RT crew at the site, a number of refugees and migrants apparently remain at the half-demolished camp.
Unlike the previous days and nights, the demolition of the site on Wednesday for the most part passed off peacefully.
"This is the end of the 'Jungle,'" Calais regional prefect Fabienne Buccio reported. "Mission accomplished."
The statement may be as premature as the one made in the same words by then US President George W Bush after the Iraq invasion in 2003. RT's crew on the ground reports that dozens of people remain at the camp.
"Soon after that statement was made we went inside and saw that there was either a massive blunder in terms of their public relations line or a lie. The camp was far from being evacuated and closed," RT's Harry Fear reported from the scene.
The footage below shows how the French 'mission accomplished' moment looked on the ground.
On Thursday, Buccio warned that refugees arriving at the 'Jungle' camp in the future would not be offered resettlement, unlike those evacuated in recent days.
"It is not Calais' role to receive all the migrants of Europe. We do not want to create a vacuum. We have asked [those newly arrived] migrants to disperse," she said.
Earlier in the day, about 100 migrants were seen filing past police officers overseeing the camp demolition, Reuters reports. Later authorities reported that around 3,000 people - many of them unaccompanied children - have been seen in the area around the camp. There is word that the number continues to grow.
According to charities, a large portion of the remaining people consists of those who have chosen to skip the resettlement program, and remained behind.
"Lots of children are sleeping outside. We had a group of Eritrean boys, 13 and 14 years old, last night, who slept outside," Save the Children's Dorothy Sang told Reuters.
You can share this story on social media: