West, Arab states 'protecting terrorists' who will never win in Syria – Mother Agnes to RT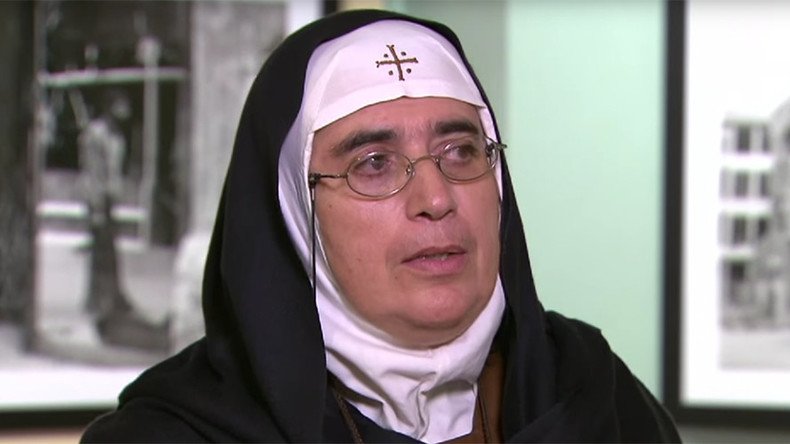 The West and the Arab states keep sponsoring and defending militants in Syria, despite the fact that they will never prevail against the government, Christian nun and Syrian peace campaigner Mother Agnes-Mariam told RT.
"It's a tragedy for the civilians and for any person that's living in Syria because there's no security. And the security doesn't exist because the international community is still financing and protecting the terrorists," she said.
The mother superior of the monastery of St James the Mutilated in Syria's Homs province said that she couldn't understand why the foreign powers are "gambling with the names" of terror groups.
Al-Qaeda's offshoot Jabhat al-Nusra "changes its name and it becomes a moderate rebel [group]. And all this is threatening the lives of millions of people," she stressed.
"Western and Arab powers are helping Jabhat al-Nusra as being the sole rebel power to be strong enough to stand facing the Syrian Arab Army," Mother Agnes-Mariam said.
However, she said that this support will only add to the suffering of the population, but won't bring the results desired by the militants' sponsors.
"I don't think that the opposition will end up in power because they're… totally divided among them," the Melite nun explained.
Mother Agnes-Mariam expressed regret that her humanitarian work in Aleppo has been distorted and even "demonized" by the Western media.
"The main stream media don't care about what's really happening on the ground. What they care about is to produce things that are more in harmony with their policies. It's brainwashing. They can orient the public opinion towards what they would like the people to believe," she said.
According to the nun, her group provides help to all the side of the conflicts, including the militants and their families.
"The rebels from the Free Syrian Army, they have esteem for what I might give them security, counseling and also humanitarian help," she said.
READ MORE: 'Staged and scripted': Mother Agnes finalizes chronology of Damascus chemical attack
"But the mainstream media and those who are standing behind them, they don't care about any good we're doing. They always try to translate what we're doing into politics... And it's a real scandal," Mother Agnes-Mariam added.
You can share this story on social media: