'We want strong EU': Lavrov dismisses 'Russophobic' Tusk claim that Russia seeks to weaken bloc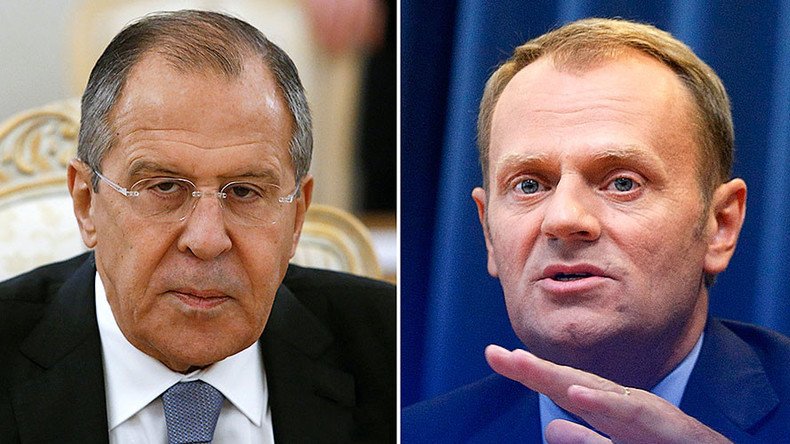 It is baseless to believe that Moscow is willing to weaken the EU, Russian Foreign Minister Sergey Lavrov said in response to "Russophobic" claims recently made by the European Council's president. Nothing "could be further from the truth," he added.
Lavrov said on Tuesday that President Donald Tusk had "taken the liberty" to speak on behalf of all EU members states of an alleged Russian policy to undermine the bloc.
Despite his status, Tusk "had made a blatantly Russophobic point, giving the Russophobic assessment of the discussion that took place [during the European Council meeting]."
"Nothing could be further from the truth than such unfounded allegations," Lavrov said during a meeting with officials of the European Business Association. He added that Moscow has "in word and deed" wanted the EU to be a strong, united and independent partner.
In a speech delivered at the European Council meeting last Friday, Tusk said that "Russia's strategy is to weaken the EU," citing "airspace violations, disinformation campaigns, cyberattacks, interference into the political processes in the EU and beyond and developments in the MH17 investigation" as a rebuttal to his claim.
He added, however, that "creating tensions with Russia is not our aim," and the EU is "always" up for a dialog with Russia.
Lavrov said he believes that "the short-sighted position voiced by Tusk" will not get enough support inside the EU as has negative impact on trade and investment between Russia and Europe.
A possible new package of economic sanctions against Russia over its involvement in the Syrian crisis may have also become a key point in the European Council meeting's agenda on Friday, but the leaders reportedly failed to reach a consensus on the issue.
Italian Prime Minister Matteo Renzi has openly opposed the idea of imposing additional restrictions on Moscow, calling instead "to do everything possible for a peace deal in Syria." He then added that "it's difficult to imagine that this should be linked to further sanctions on Russia," as quoted by Reuters.
German Chancellor Angela Merkel pushed for "considering further actions" against Moscow "even if the bombings remain as intensive as they had been previously," referring to Russia's support Syrian military in their efforts to liberate the eastern Aleppo held by Al-Nusra Front.
The EU sanctions imposed on Russia after its reunification with Crimea and crisis in Ukraine are still in place despite growing opposition against them in the bloc.
Commenting on the issue, Russian Foreign Minister said he does not believe the sanctions would be lifted once the Ukrainian crisis is resolved.
"I'm not a naïve man," Lavrov told the Tuesday meeting, as cited by Interfax.
"I don't think that my interlocutors who told me such things looking into my eyes are naïve people either. Something should be behind it. I asked them at that time, do you guys want to impose sanctions relating to Syria?"
You can share this story on social media: