1 killed, over 200 injured in South Africa head-on train collision (PHOTOS, VIDEO)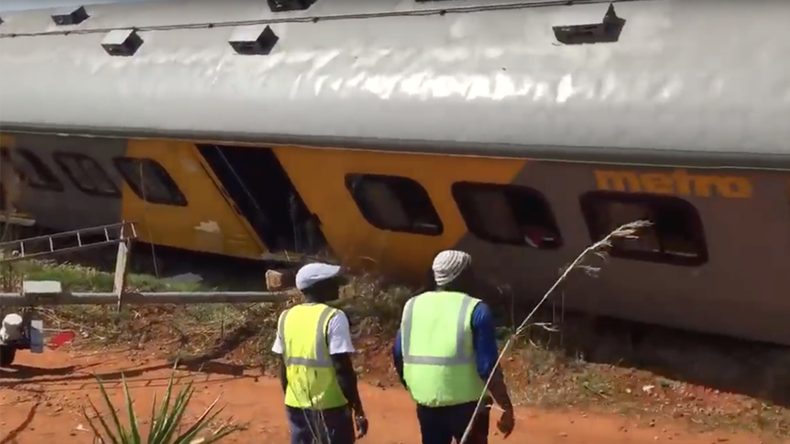 A human error may have caused a horrifying head-on crash of two commuter trains northeast of Johannesburg, which resulted in one fatality and left more than 200 people injured.
Two Metrorail trains collided on Monday afternoon, on the track split between Tembisa and Kaalfontein.
"Both trains were travelling in the opposite directions on one lane," William Ntladi, a disaster and emergency management spokesman for the municipality of Ekurhuleni, told local media. Ntladi said it was unclear how this could have happened.
According to EMER-G-MED paramedics, one person was trapped in the wreckage and pronounced dead on the scene.
Over 240 passengers sustained "minor to moderate injuries" and were transported to Tembisa hospital and other local medical facilities.
The total number of passengers who had been onboard remained unclear. The crash could have been much worse, since one of the train drivers noticed he was travelling on the wrong lane and stopped the engine, according to unnamed eyewitnesses cited by local media. The driver was reportedly sounding the horn at the moment of the crash.
Metrorail, the train company which is operating the line, has apologized for the "inconvenience" and started an investigation. "Human error" may have caused the crash, according to the preliminary findings cited by eNCA.
The police have started a criminal investigation into the crash. No arrests have been made so far, according to police spokesperson Captain Kay Makhubela.
There have been concerns about the safety of Metrorail commuter trains, due to both crashes and crimes on board. Last year, a train crashed into a rear of another one at Denver station in Johannesburg. One person, a Metrorail guard, was killed and about 240 were injured.