Facebook deletes 'offensive' breast awareness video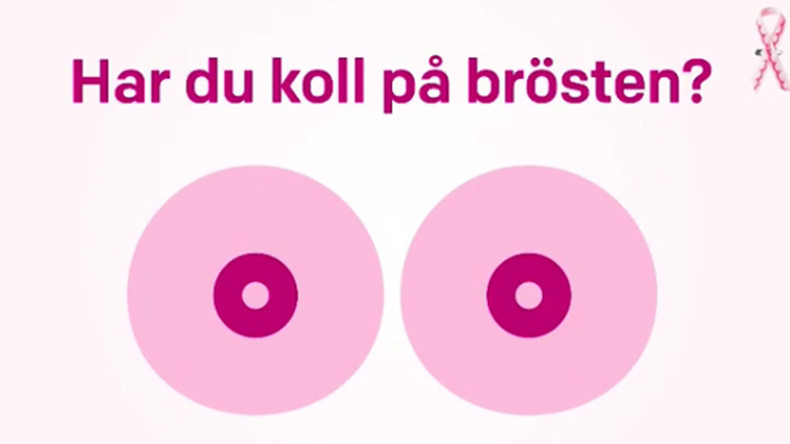 Facebook has deleted a video on breast cancer awareness, ruling that the image of two pink circles was offensive. A Swedish group that shared the video said it unsuccessfully tried to comply with Facebook rules, but ended up finding a solution.
"After trying to meet your control for several days without success, we have now come up with a solution that will hopefully make you happy: Two pink squares!" Sweden's Cancerfonden wrote in a post to Facebook. "This cannot possibly offend."
An original video posted earlier this month was meant to educate women on how to examine their breasts for lumps, one of the most common symptoms of cancer. The group's mission is to spread awareness since early diagnostics highly improves chances of survival.
"Help us spread awareness by sharing and tagging your friends," Cancerfonden called on its followers. However, Facebook deemed their instructional video offensive and the video was removed from social media.
Although the group found a solution, the video still has not been restored on Facebook.
A spokeswoman for Facebook told the BBC that the images in the Swedish campaign have now been approved.
"We're very sorry, our team processes millions of advertising images each week, and in some instances we incorrectly prohibit ads," she said. "This image does not violate our ad policies. We apologize for the error and have let the advertiser know we are approving their ads."
The video has been left untouched on Facebook-acquired Instagram.
"We find it incomprehensible and strange how one can perceive medical information as offensive," Cancerfonden communications director Lena Biornstad told Agence France-Presse. "This is information that saves lives, which is important for us," she said. "This prevents us from doing so."
October marks Breast Cancer Awareness Month, a monthlong campaign to alert women worldwide of risks, screening and the importance of early detection. According to an estimate by American Cancer Society, in 2016, there would be a total of 11,090 new cases diagnosed and 1,180 deaths.
According to the World Health Organisation, 522,000 women died of breast cancer in 2012, making it the fifth deadliest type of cancer.