US deploys 3,500-strong armored brigade to S. Korea amid mounting tensions with North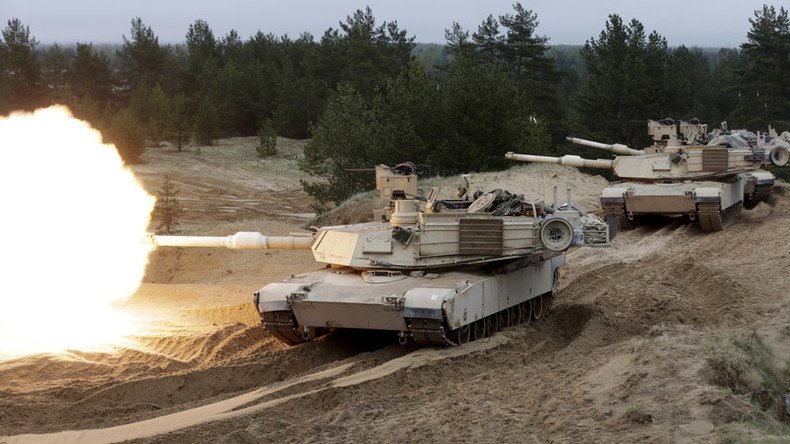 The 1st Armored Brigade Combat Team, one of the oldest tank units in the US Army, will move to South Korea for a nine-month "rotational deployment." It comes just one day after the Pentagon threatened an "overwhelming response" to any attack on Seoul.
The US Army said on Wednesday that it had begun the "rotational deployment" of the 1st Armored Brigade Combat Team (1st ABCT) of the 1st Infantry Division from Fort Riley, Kansas, to the Camp Casey north of Seoul.
Brigade General Patrick D. Frank, deputy commander of the 1st Infantry Division, said in a statement the brigade's 3,500 soldiers and officers "are well-trained and fully prepared for this important mission to South Korea" that would last for nine months.
A typical Armored Brigade Combat Team in the US Army includes 90 M1 Abrams tanks, 90 Bradley infantry fighting vehicles, and 112 M113 armed personnel carriers. Other vehicles, such as 'Humvees', operate in a supporting role.
The US military refrained from providing more details of the deployment, but it comes amidst the latest of "North Korea's provocations."
On Wednesday, the US Defense Secretary Ash Carter told his South Korean counterpart Han Min-goo in Washington that "the US commitment to the defense of South Korea is unwavering."
"Make no mistake, any attack on America or our allies will not only be defeated, but any use of nuclear weapons will be met with an overwhelming and effective response," he added.
Among other measures, the two countries will stage a massive two-day military exercise, scheduled to start on October 22.
The war games, meant to train naval intercept operations, will feature South Korea's Aegis-capable destroyer Yulgok Yi I, USS McCampbell with her support ship USS Tippecanoe as well as P-3 Orion patrol aircraft.
The Japanese Navy will also send its guided-missile destroyer 'Ariake' and an H-60 helicopter.
On Wednesday, US and South Korean defense ministers also discussed a so-called "extended deterrence" which will see stationing of American THAAD ballistic missile defense system in South Korea with a stated goal to respond to North's rocket launches.
Earlier this month, Washington rejected a petition against the move, signed by more than 100,000 people, claiming that the THAAD was a tool to "improve the missile defense posture of the US-[South Korea] alliance" against "North Korea's continued provocations and refusal to engage in serious negotiations on denuclearization."
Moscow maintains that tensions between Seoul and Pyongyang must be resolved through political dialogue and not by military means, arguing that deployment of missile defense systems in South Korea would inevitably affect security in the entire region.
Pyongyang has threatened the US and its ally South Korea with a "pre-emptive nuclear strike." According to Lee Yong-pil, a director of the North Korean Foreign Ministry's Institute for American Studies, the US has no monopoly on preventive nuclear attacks.
"We have to have nuclear weapons to protect our country, and it's our policy to go nuclear," the official said.
Tensions on the Korean Peninsula have been running high since the beginning of this year, when North Korea has been massive nuclear and ballistic missile tests in defiance of UN resolutions.
You can share this story on social media: