Turkish jets strike Kurdish militants in northern Syria amid Aleppo ceasefire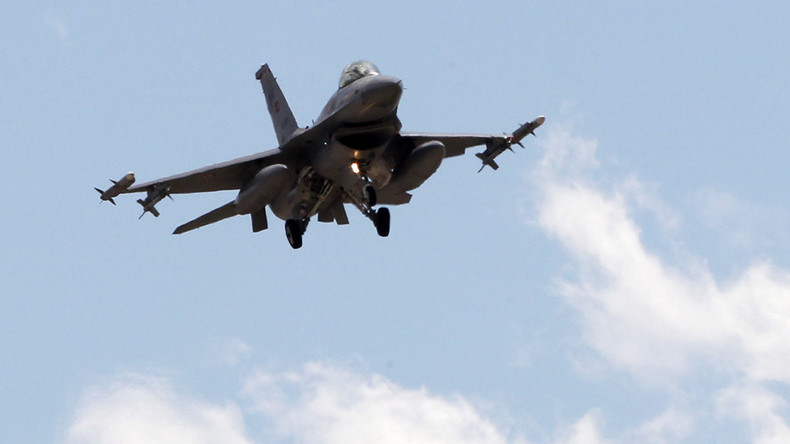 Turkish jets have targeted 18 Kurdish positions north of Aleppo, killing 160 to 200 fighters, Ankara's military said in a statement. The airstrikes come as Syrian forces ceased fire in Aleppo to let armed militants and civilians leave the besieged city.
In justification of the airstrikes, the Turkish military said five shells had been fired from the Kurdish-held Syrian region of Afrin, hitting empty land in Turkey's Hatay province, Reuters reported later on Thursday. The shelling did not cause any casualties or damage, but prompted Turkish artillery to open retaliatory fire "in line with its rules of engagement."
Some 160 to 200 fighters of the Kurdish YPG militia group have been killed in 26 airstrikes conducted by the Turkish Air Force on Wednesday night, the military said in a statement, according to Hurriyet.
The armed forces added that the jets targeted areas recently captured by the YPG north of the embattled city of Aleppo, destroying nine buildings "used as ammunition depots," one armored and four other vehicles operated by the Kurdish forces.
Turkey intervened in the Syrian conflict earlier in August as part of the operation 'Euphrates Shield', deploying ground troops and air power to northern parts of the neighboring country with the stated goal of retaking areas held by Islamic State (IS, previously ISIS/ISIL).
However, many observers note that Ankara aims to suppress Kurdish forces in Syria and prevent them from connecting three de facto autonomous Kurdish cantons into one enclave south of the Turkish border.
The military operation against the YPG has also exposed a widening rift between NATO allies US and Turkey. Recently, the two countries exchanged harsh statements on Turkey's actions in Syria.
While top US officials have publicly stated that Ankara acts "on its own" in targeting Kurdish forces and called instead to concentrate on fighting IS, Turkey responded by saying it will not put 'Euphrates Shield' on hold until a 'safe area' is created in northern Syria.
Turkey has repeatedly said that it would not allow Kurds staying west of the Euphrates River, with YPG's advances in northern Syria. The Kurdish groups are considered terrorist organizations by Turkey, but not the US, which perceives them as a counterweight to Turkish influence in the area.
In the meantime, a 'humanitarian pause' came into force in the city of Aleppo itself, with a declared goal to allow armed anti-government militants and civilians exit the area.
A Syrian Army statement quoted by state news agency SANA said the ceasefire will last until October 22 and urged "all gunmen in the eastern neighborhoods of Aleppo to throw their weapons and benefit from the amnesty decree."
Also on Wednesday, Russian President Vladimir Putin announced Moscow's readiness to extend the "pause in delivering airstrikes in Aleppo for as long as possible," given the current developments in this part of Syria.
You can share this story on social media: